BANDON - For the first time ever, Bandon has public transit on a fixed route. 
The Cranberry Express began making regular rounds within city limits on July 1. Marshall Kinnaird drives the 12-passenger bus, which is operated by Coos County Area Transit. The bus has a wheelchair lift and space for two wheelchairs, Kinnaird said. It operates from 10 a.m.-4 p.m., Monday, Wednesday and Friday and will be a year-round service.
City Manager Robert Mawson and former City Councilor Mike Claassen are members of the Coos County Public Transportation Advisory Committee. Claassen has supported the creation of the Cranberry Express route since he was in office several years ago.
As city manager, Mawson was aware of the Statewide Transportation Improvement Fund, which was imposed beginning in July 2018. Ninety percent of the STIF money that comes from Coos County comes back to Coos County, said Sergio Gamino, CCAT general manager. The other 10 percent goes into a discretionary fund that can be awarded to qualifying entities in a competitive process that involves public input. 
"Robert represented Bandon and brought the idea to the committee that the city of Bandon would like to see a fixed route service," Gamino said.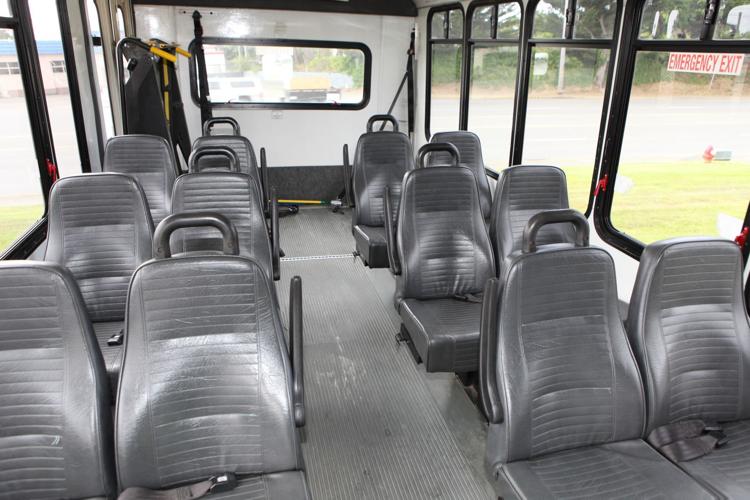 The committee looked at all of the proposed projects and made decisions on which to fund, Gamino said. The Cranberry Express was one of the proposals recommended and was then approved by the Coos County Board of Commissioners. The money is allocated on a biennial basis.
"We hope this is an enduring funding source to support this particular service to the community of Bandon," Gamino said. 
The bus is one that CCAT already owned that was repurposed for the Bandon route, but CCAT has made a request for funds to purchase a new vehicle to send to Bandon.
You have free articles remaining.
The bus costs $1 per ride for adults, and 50 cents per ride for children ages 6-17 and seniors 62 and older. Children under 6 ride free. A monthly pass can be purchased for $25 from the driver and can be used on an unlimited basis during that month, though riders are asked to limit their time on the bus to one loop per ride. 
The Cranberry Express stops are: City Hall, Community Youth Center, City Park/Public Library, Seabird and Lincoln, U.S. Post Office, Southern Coos Hospital, McKay's Market, Ray's Food Place, Face Rock Creamery, Art by the Sea Gallery, and Second and Chicago. 
Bandon residents and visitors also can ride the free trolley, which is also operated by CCAT and runs on Friday, Saturday and Sunday from 10:30 a.m.-5:30 p.m. The Bandon Trolley, however, is a seasonal service for amusement purposes and is not being operated as a form of public transportation. 
Residents along the South Coast also have the option of using Bandon's Dial-A-Ride service. Dial-A-Ride is available to people age 62 and older or those with a medical disability that precludes them from riding on the fixed route bus, Gamino said.
There is an application process for those with disabilities who wish to be approved to use the Dial-A-Ride service. Once approved, those qualified to ride are asked to call 24 hours in advance and the van will pick them up curbside at their homes or wherever they are and take them where they want to go within the city limits of Bandon and as far as 8 miles outside of city limits. If the ride requested is outside of the 8 mile limit, the charge is an additional 50 cents per mile. Otherwise, the Dial-A-Ride charge is $2 for a one-way trip. The Dial-A-Ride number, 541-267-7111, and is listed in the Coffee Break each day. The service runs from 9 a.m.-4 p.m. Monday-Friday and is not available on holidays. 
There is also a Coastal Express bus operated by Curry County Public Transit that picks up and drops off passengers from Brookings to Coos Bay on U.S. Highway 101. 
"We're just excited to bring the Cranberry Express to the community of Bandon and hope people will use it to get around town," Gamino said. "It reduces congestion and the hassles of parking and those other hassles that go along with driving."
Schedules for the Cranberry Express are available from the driver, at City Hall and at the Chamber of Commerce Visitor Center. For more information, visit coostransit.org or call 541-267-7111.