BANDON - One way to start a health revolution in others is to first start with yourself.
Denise Vasquez's own personal transformation promoted her to open Rawsome Juices & Smoothies in the Bandon Shopping Center. 
Vasquez moved from Southern California to Bandon in 2008 to open an adult foster care home. She still owns that business, which houses five residents. She had been visiting the area with her parents, Alice and Dennis Freeman, since she was young and would often spend the summers in Bandon. Her parents eventually moved to the area to retire.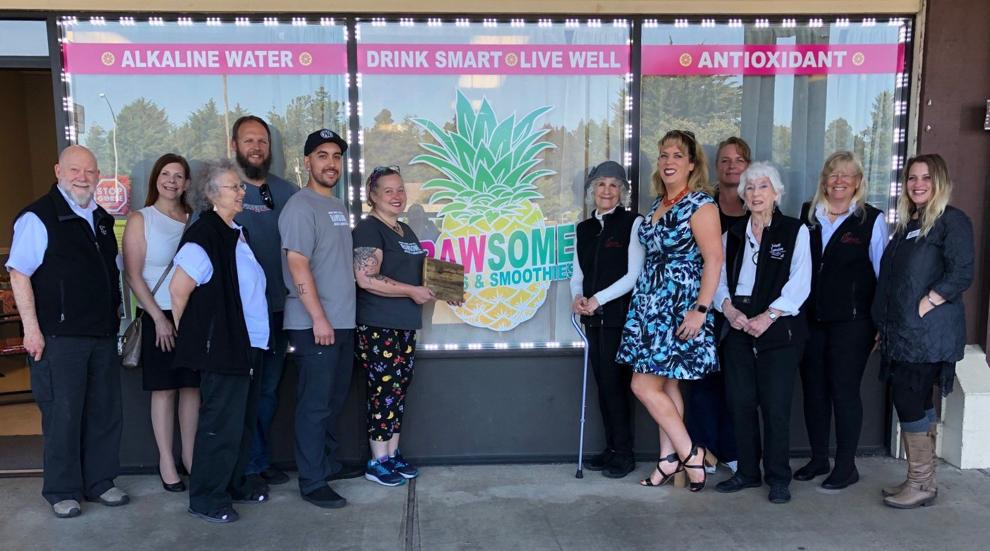 Rawsome Juices & Smoothies
The Bandon Chamber of Commerce presents a plaque to Rawsome Juices & Smoothies to celebrate its one-year anniversary.  
"I've just always loved Bandon since I was little," Vasquez said. 
In October, 2017, Vasquez was diagnosed with a pre-cancerous ovarian cyst and was advised to have surgery. She had also been on thyroid medication for 15 years. Instead of surgery, she decided to change her diet.
Vasquez had been reading about plant-based and raw diets and decided to go on a raw grape and lemon juice fast for a week or so. Instead, she felt so good, she stayed on it for 70 days. She went back to the doctor and had her thyroid tested. It was normal. She went back to her OB/GYN and her cyst was gone as well. In fact, nagging pains she had suffered from for years were also gone. 
After the 70 days, Vasquez followed a raw food diet. She researched the standard American diet versus a raw food, vegan diet and was even more convinced she had made the right choice. On top of her health issues disappearing, Vasquez also lost 30 pounds and turned her health completely around. She now also exercises five days a week with Tobias Robinson at Core 10 Fitness. 
"I feel amazing," she said. "I feel better than I've ever felt and I sleep great. I've changed my mindset. I'm meditating and practicing self-love."
Such a specific diet, however, can be difficult to maintain and Vasquez soon realized there weren't many places to go out to eat locally that could offer foods she wanted.
"That's when we decided, let's introduce healthy juice to Bandon," Vasquez said.
Vasquez and her nephew David Zaragoza, who moved to Bandon a few years after she did to help in the foster home, became business partners and opened Rawsome Juice and Smoothies on Sept. 8, 2018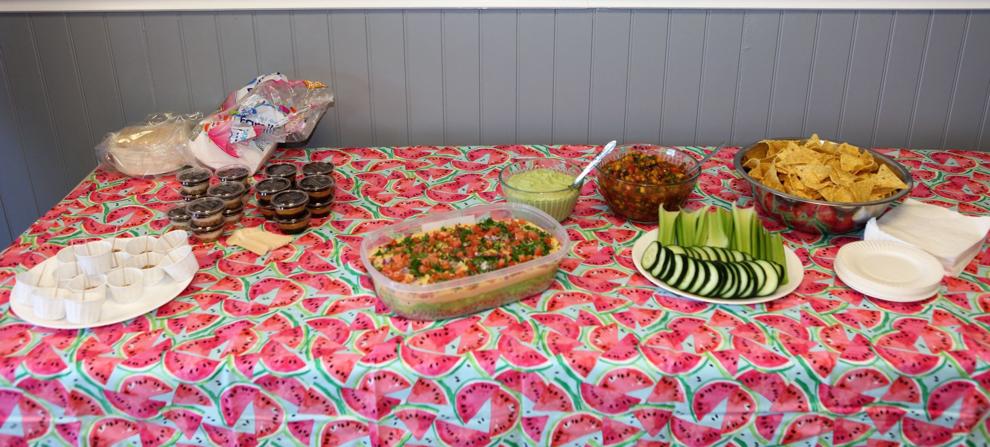 Rawsome Juices & Smoothies - spread
Rawsome Juices & Smoothies spread for Chamber After Hours event. 
At first, Vasquez wanted to serve only raw foods, but her customers requested other vegan foods. So the shop features plant-based, all natural selections. There are smoothies and juices made from all kinds of fruits and vegetables. Smoothies come in two sizes, $6 for 16 ounces, and $8 for 20 ounces. Smoothie bowls are $7. Juices start at $4 for eight ounces, $6 for 16 ounces and $8 for 20 ounces.
Rawsome Juices & Smoothies also offers lunch items, such as avocado toast, six layer dip, zoodles (made from zucchini), mango salsa with chips and guacamole, "toona" sandwich and a veggie "berger." Lunch items are served from 11 a.m.-3 p.m. and cost $7 each.
In addition, Vasquez has perfected minimally processed desserts. She offers protein balls, peanut butter cups, cookie dough and "cheeze" cake, which are available in the refrigerated dessert case, along with other selections, such hummus and salads. Rawsome Juices will also cater local meetings or events.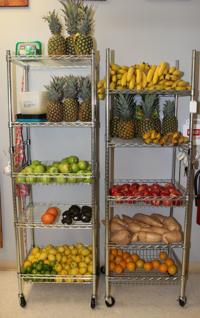 Rawsome Juices & Smoothies
Fresh fruit at Rawsome Juices & Smoothies
Zaragoza has his own testimonial. He has lost 115 pounds within the last year, which he attributes not only to a raw, vegan diet, but also to Enagic Kangen Water, something the shop also offers. Kangen Water is hydrogen rich, antioxidant-loaded alkaline water that is said to neutralize oxidative stress, which can lead to a variety of health issues. Kangen Water can change the chemistry of your body, Zaragoza and Vasquez believe. And many others testify to its benefits as well. The water can be purchased by the gallon at the shop, with discounts for customers who pay a monthly fee. Private demonstrations of Kangen Water can be scheduled by texting "Demo" to 541-655-0045.
"I'm not making medical claims here," Zaragoza said. "But your body is 70 percent water and you can go full vegan, but that's only 30 percent of the equation."
Both feel so much better than they did just a year ago and want to bring that feeling to others. They invite people to come try the juices and food offered at Rawsome Juices & Smoothies, where they are "spreading true health, with compassion, one family at a time."