BANDON — People of all ages in slick looking suits dotted the beach below Coquille Point on Saturday.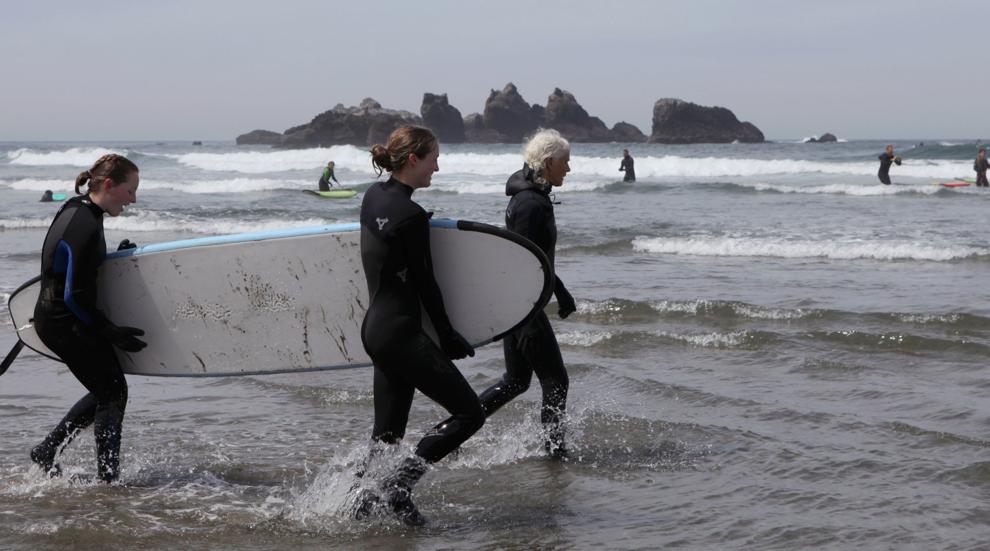 And they weren't walking in the sand, though with the low tide, Circles in the Sand was also underway nearby. These people were all up at least their knees in the surf, carrying or riding on colorful surfboards. 
It was all part of a free youth surf camp sponsored by the nonprofit Warm Current. This is the second year the camp has been held in Bandon, but others have been held in Port Orford, Coos Bay and Florence for the past three years.
Each camp starts with a beach cleanup, a lecture on safety, then stretching exercises. Saturday, under sunny skies, 48 young people, ages 8-18, some 32 volunteers, along with parents and onlookers, splashed in the chilly Pacific Ocean as many attempted to ride their first wave.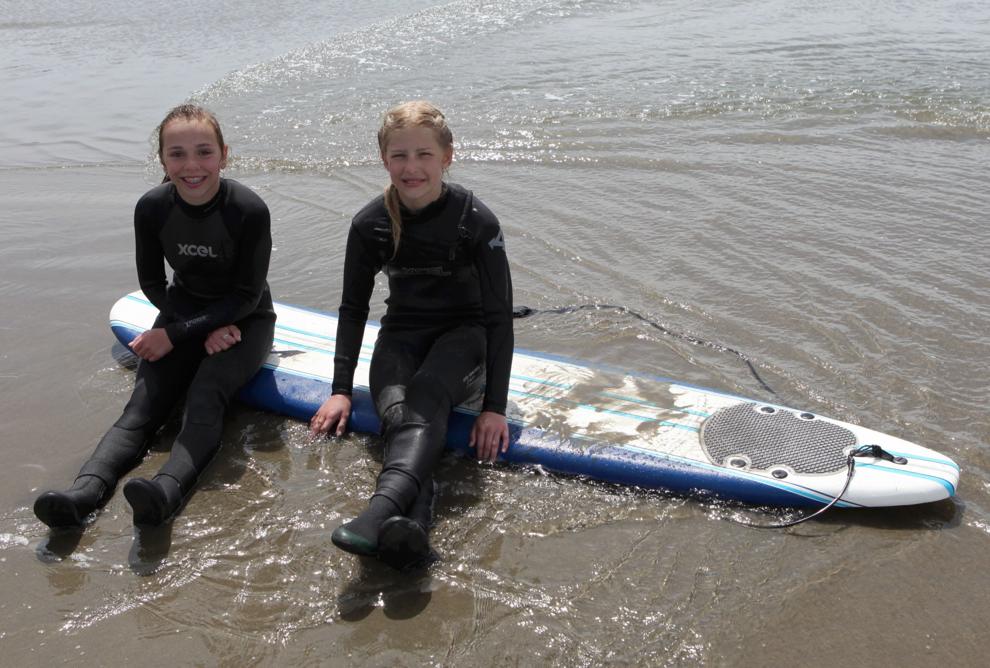 Bandon resident Chris Chapman, known locally as "Chappy" has organized the South Coast surf camps.
"Look at those kids, that's awesome, that's what it's all about right there," Chapman said as he snapped photos with a waterproof camera. "We had a great turnout."
Chapman explained that while he organized the event, it wouldn't have happened without the many other volunteers. Each child was guided into the water by an experienced surfer for safety and one-on-one instruction. No child had to bring a surf board or wetsuit, as a trailer in the parking lot above the beach was filled with equipment to borrow.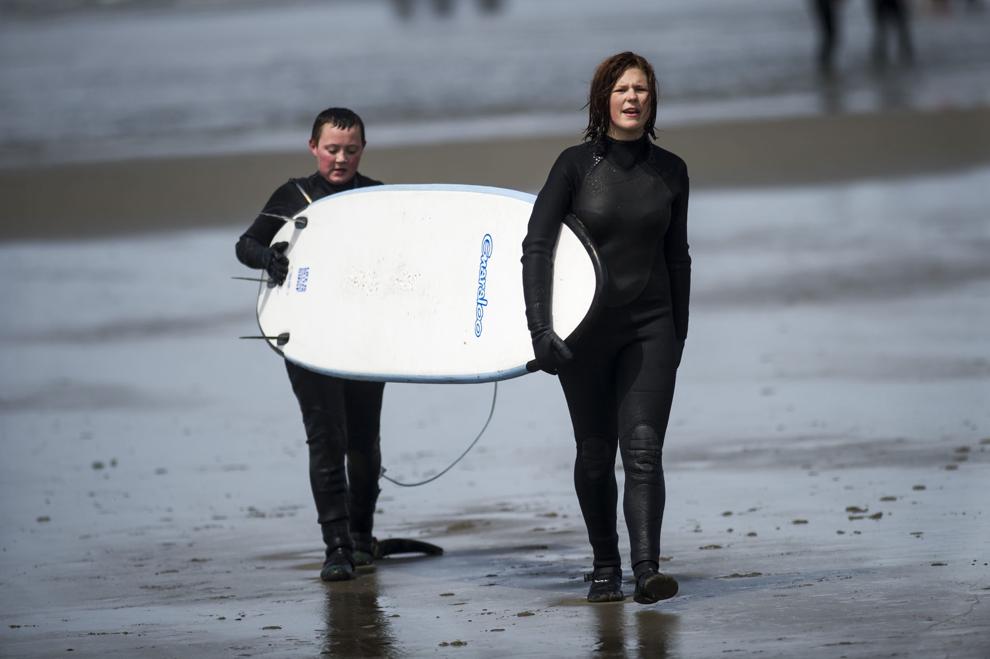 Food after the event was provided by Bandon Brewing and Pizza Co. and an anonymous donor, and beverages were provided by Murdey's Surfboards in Portland and Tilley Surfboards of Port Orford. Rocky Johnston of Pac West Drone Services provided video footage and still photos to document the camp.
Warm Current started as group of friends in 2009, sending donated wetsuits to organizations providing surf-focused youth development programs in Peru, Chile and Mexico. Since then Warm Current has established a chain of donation bins on the West Coast and donated over 1,000 wetsuits to organizations whose work provides underserved youth access to the ocean, both locally and around the globe.
Wanting to turn the focus more locally, Warm Current began running free surf camps in the Pacific Northwest for those who would otherwise never have the opportunity. Over the past nine years, with the power of over 500 volunteers, the organization has worked with more than 2,000 youths from communities along the West Coast, teaching basic surfing techniques, supporting personal growth and empowering participants to become environmental stewards. These surf camps are free of charge and open to all youth in the local community.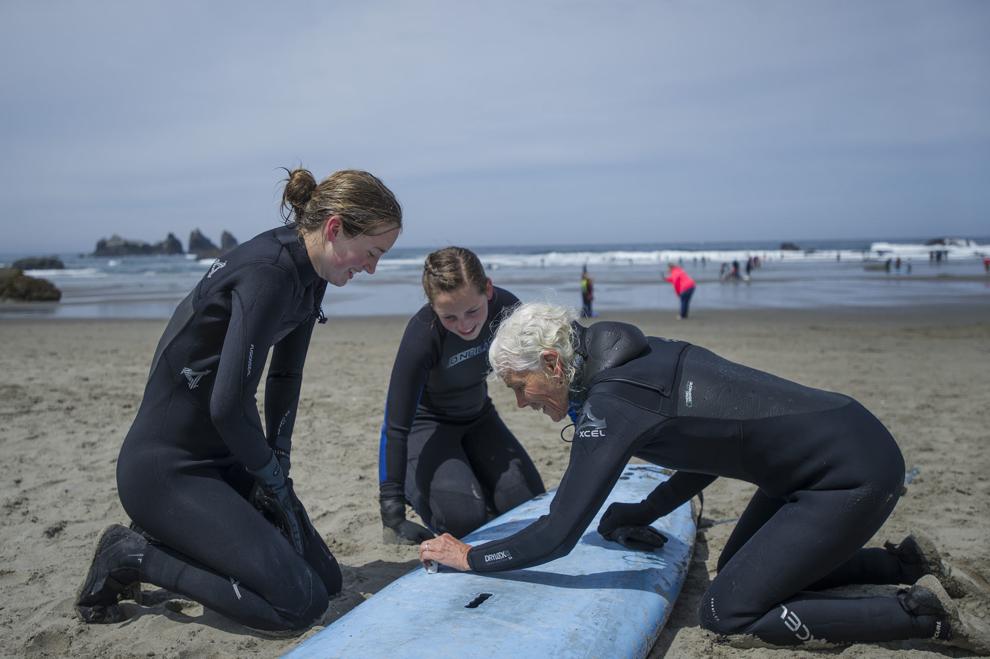 Warn Current's mission is to drive personal development and create healthy, active lifestyles for youth through surfing.
But the kids on the beach Saturday weren't thinking about how healthy or empowering the activity was. They were just having a good time. Scratch that, a great time. Prancing through the surf with big smiles, the kids weren't daunted if they couldn't get up on their first try.
"I have surfed before but in warm water," said Analise Miller, 12, of Bandon who was resting with her friend Lyvia Erenfeld, 12, also of Bandon. "I'm still learning how to paddle and stay on the board and stuff. It's cold but refreshing."
"Today I could actually stand up on the board," Lyvia said. "It was amazing."
Lyvia's mother, Nicole Rush, said last year Lyvia wouldn't even get near the water.
"Then we bought her a wetsuit and a boogie board and pretty soon she was going in. Now look at her," Rush said. "It's really cool that the trailer is full of wetsuits so kids don't have to buy them and they can try it out. Three people came with us this time just from us telling them how fun it was."
"And what's better than these kids feeling comfortable in the water," Rush added. "They get a real feel for what the ocean is like. I'm amazed at how many (in this area) don't know how to swim."
Young Rachel Pimentel, 9, of Bandon was having a lesson with volunteer Chris Steffer of Coos Bay while her mother Daisy watched.
"I got to stand up," a shivering Rachel said, adding she plans to participate again next year.
"We're Bandonians," Daisy Pimentel added when asked if the cold was off-putting "We come to the beach in February."
The volunteers were having just as much fun as the kids.
"We're here to try and show kids there's lots of fun things to do in Bandon like surfing and that it's easier and safer than they think it is," said Trent Hatfield, a Bandon High School teacher who is also an adviser for the Surfrider Club, which has a similar mission of appreciation for the oceans and shores. 
So many others behind the scenes helped as well, Chapman said. BHS Principal Sabrina Belletti and local realtor and motel co-owner Ruby Berry of Bandon, both experienced surfers, were helping kids with wetsuits and surfboards. The two have pioneered waves in the Coquille River near the South Jetty and Berry's son Mason returns from college each year to help at the camp.
Grover Hatcher, former owner of WinterRiver Books, who has surfed on the South Coast for 30 years and is known locally as a surfing legend, was down on the beach helping young surfers.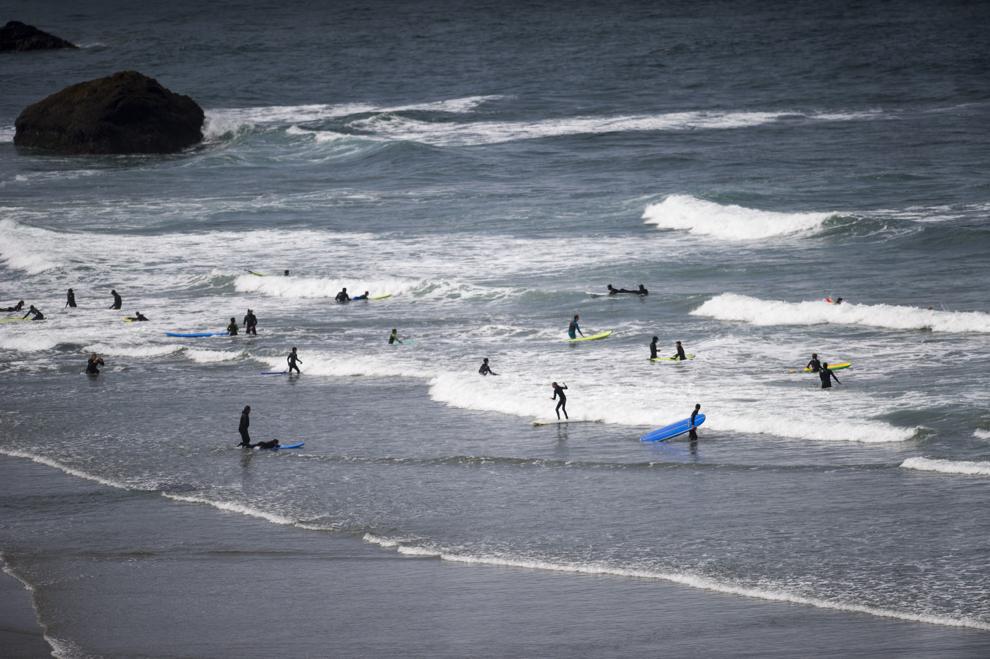 The list of enthusiastic volunteers goes on.
"We're just trying to give kids in the community what we know will help them build confidence and self-esteem," Chapman said. "It helps develop the ability to get through moments, to fall and get back up. Kids these days are getting beat down and they're not being physical. That's all we're doing, we're just bringing what we've got and everybody's got something to bring."
"It's all for the benefit of the kids," he added.
Another Warm Current youth surf camp will be held at Bastendorf Beach in Coos Bay on Saturday, June 2, from 9 a.m.-12 p.m. and in Florence on July 28. There will also be another youth surf camp in Bandon this summer, with the date to be announced. 
For more information and to sign up, visit www.warmcurrent.org.