BANDON — It's come full circle for Mara Rutherford and Kenny Maddux. The couple are the new owners of Bandon Coffee Cafe.
While many will be sad not to see the familiar faces of Margaret and Steve Pounder at the popular Bandon hangout, they will be pleased when they realize that Rutherford and Maddux are also familiar. Both of them worked at the cafe and met there before going on to other pursuits. Now engaged, the two are excited to be back where they feel they belong.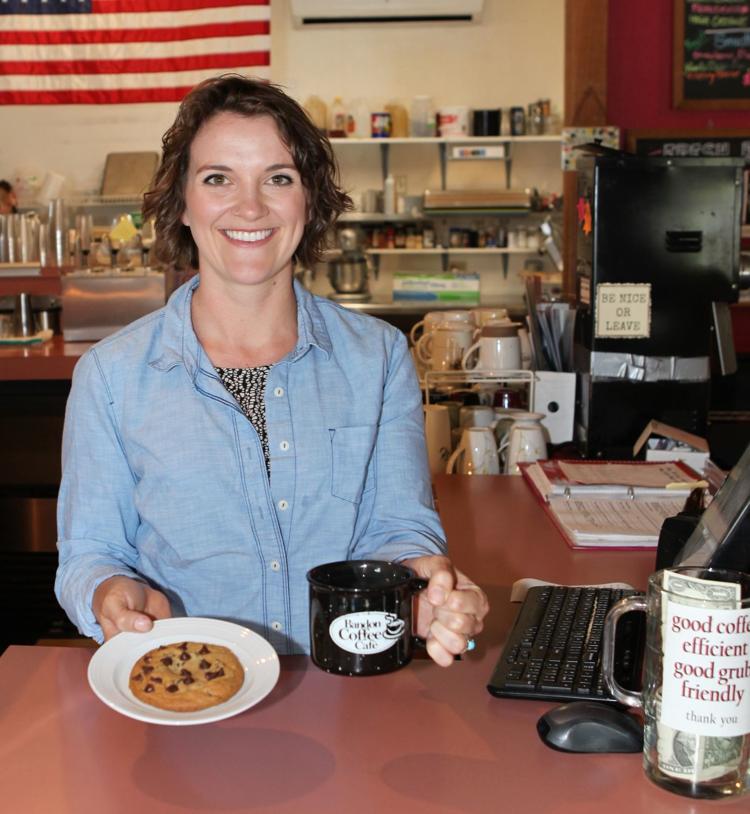 Rutherford originally came from the Carmel, Calif. area, but moved with her family to Denver, Colo. There, after high school, she earned an associate's degree in baking and pastries at Wales University. From Denver, she moved to Eugene, where she worked at Market of Choice as the bakery manager, then moved back to the Denver area where she managed Happy Cakes, a cupcake bakery. She lived for a short time in Utah, then moved to Bandon in 2011, where her mother was living. 
She began working at the Coffee Cafe and selling artisan bread and other baked products at the Old Town Marketplace. The bread was baked in brick adobe ovens made by her stepfather Donn Klewitz. 
"I never thought I'd stay in Bandon," Rutherford said. "I didn't know anyone when I moved to town but the Coffee Cafe became my social hub. It's kind of what grounded me and allowed me to get to know the community."
At the Coffee Cafe, she soon became known for her delicious pies and baked goodies. She left a few times to travel and explore, but always came back. Rutherford began studying at Oregon State University online part-time, with the goal of earning a bachelor's degree in public health. She then spent a couple of terms on campus and completed her degree with a study abroad experience in Ghana, Africa, (which she blogged about and which was also chronicled in the Bandon Western World).
In 2014, Maddux began working at the Coffee Cafe. He grew up in Coos Bay and has lived in Coquille, Reedsport, Eugene and Portland. Following a cross-country bike trip, he landed in Bandon where his mother lives, and now owns Maddux Masonry, a trade he was taught by Klewitz. But he will also bring his talents as a barista and cookie maker to the Coffee Cafe.
As cycling enthusiasts, Maddux and Rutherford began taking biking trips and in 2017 toured for two months over 1,000 miles from Bandon to Santa Barbara with their dog. Upon their return, Rutherford took a job in public health, working at Coast Community Health Center as an outreach worker. 
"It was a chance to get to use my degree and work with a different sector of the community," Rutherford said. "It broadened my experience and understanding of the community."
But the Coffee Cafe drew her back, once again. The cafe was for sale in 2014, when the Pounders also owned the Bandon Fish Market, which they put on the market at the same time. The Bandon Fish Market sold a couple of years ago to Mike and Misty Berry, so the Pounders took the Coffee Cafe off the market for a while. They were just waiting for the right people to come along and purchase the Coffee Cafe.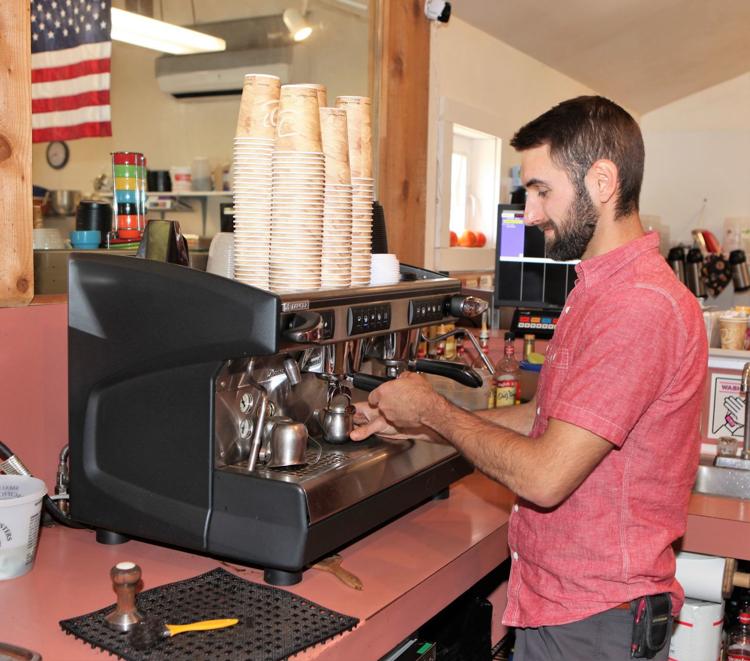 Rutherford said in 2014 she considered purchasing the cafe, but it seemed unattainable at the time. The Pounders put it on the market again about a year ago. Recently Rutherford and Maddux talked it over and decided it was a dream they wanted to pursue.
"It's always been my dream to own a bakery or somewhere I could use my baking skills," Rutherford said.
"We've had so many people ready to write checks, but few qualified to fit into the community, because this is a community gathering spot," Margaret said. "It's like an episode of 'Cheers' where everybody knows your name."
The Pounders intend to stay in the community and enjoy retirement, perhaps do some traveling and enjoy time with their grandchildren.
Rutherford and Maddux will be hands-on at the Coffee Cafe, but don't plan to change much for at least six months, though they will have the Coffee Cafe be a stopping point for the Greater Bandon Association's Wine Walks (the first one in on June 22). 
"We don't have concrete plans to change anything for a while," Rutherford said. "But we plan to hit the ground running because we did work here and know the routine."
The Coffee Cafe will still offer a full coffee and tea drinks menu, pastries, cookies and other sweet offerings, along with their savory bagels, soups, sandwiches and many other specials. Hours will remain the same, from 6 a.m.-4 p.m. daily. The Bandon Coffee Cafe is located at 365 Second St. SE in Old Town, 541-347-1144. They have a website www.bandoncoffee.com and a Facebook page.
In their spare time, the couple enjoys biking, hiking, camping and gardening. They are also "unintentional homesteaders," experimenting with bee keeping, owning chickens and brewing kombucha. And Rutherford is a Court Appointed Special Advocate volunteer as well. They plan to be married in the next year. 
"It's a full circle," Rutherford said. "This place has been a landing pad for me and I've always come back. We're looking forward to being involved in the community and having that rapport with customers."