PORT ORFORD — The Eagle III's wheelhouse was filled with frigid sea water and Glenn Burkhow was fully submerged, swishing around like a piece of clothing inside a washer.
Desperately needing air, Burkhow saw a pocket and pushed his mouth to it, sucking in deeply with his lips. He got a small gulp, then tried to get another, only to suck in a lung full of salt water.
Then he felt a hole in the bottom of the boat at the top of his head. He pushed toward the opening and burst out of the water, filling his lungs with a desperate gasp. 
Ready to fish
On the evening of Jan. 19, the Eagle III was hit by a rogue wave just outside the Coos Bay bar that turned the 40-foot fishing vessel upside down and sideways. Just minutes before, the Eagle III was on its way back into port with 1,000 pounds of crab.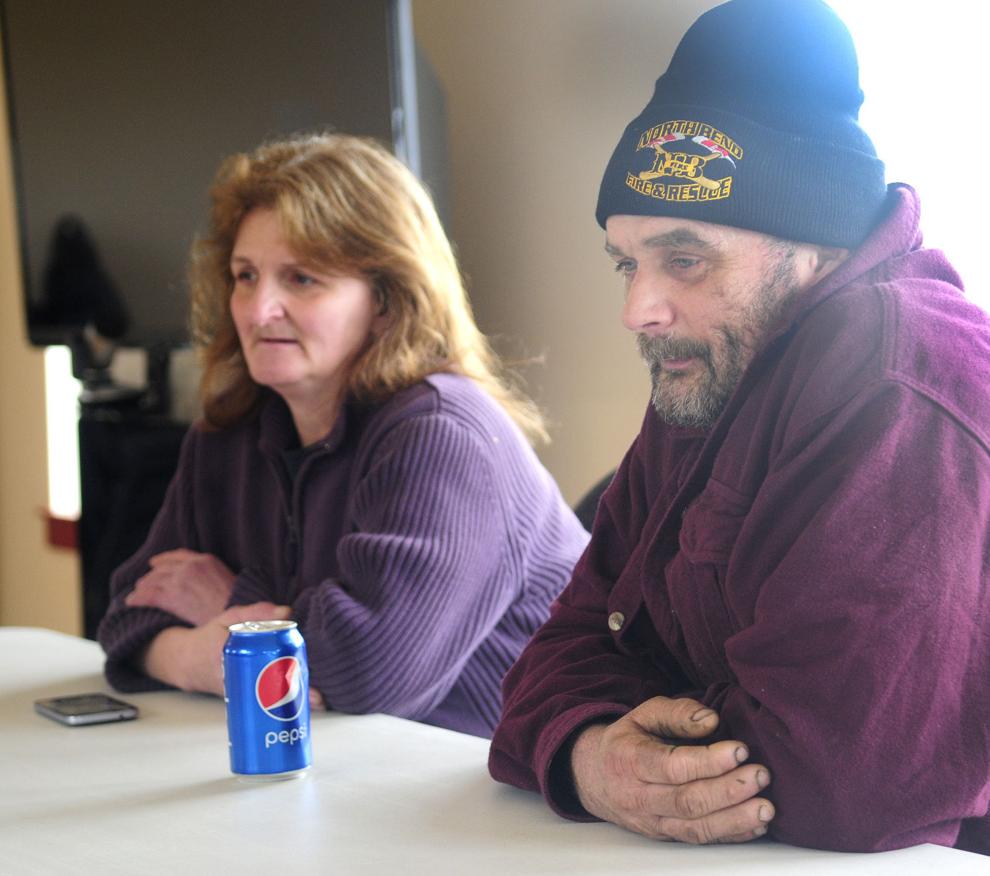 "The ocean was fine all day," Burkhow, the boat's captain, recalled from the Oregon State University Field Station in Port Orford, where the Eagle III's owner, Leesa Cobb, works as executive director of the Port Orford Ocean Resource Team.
Burkhow, 52, who has been captain of the Eagle III for 11 years, was on board with three crewmen, Blaine Steinmetz, also 52, Danny Matlock, 37, and Josh Paulus, 31, all of Port Orford.
Paulus is the father of Burkhow's granddaughter and was like a son to him. He had worked as a deckhand on the Eagle III for four or five years. Steinmetz, father of three grown children and a step-daughter, also was an experienced seaman and had worked on and off with Burkhow for the last five years. Matlock, father of a daughter, 5, and a son, 13, had worked as a fisherman for only three or four months, but was a focused, dedicated worker who was trying to overcome a difficult past, Burkhow said.
Jan. 19 was a happy day for the crew of the Eagle III. It was the first day they had been able to get the vessel out to sea to go crabbing. The season had already been delayed from Dec. 1 to Jan. 1 because of a toxin present in crab. But the Eagle III was delayed even longer due to engine problems.
"Our engine blew up on opening day, so we had no choice," Burkhow said. "We went to Hallmark (Fisheries) and unloaded our gear. The engine was toast."
There, Burkhow had a friend — a trusted licensed boat mechanic — replace the engine.
Another friend saw him unloading gear and offered to drop the pots for Burkhow so when they were up and running — hopefully in just a week or so — they could head out and pull the pots.
So on Jan. 19, with a new engine, the Eagle III was ready to go and the crew was eager to get out to sea.
"We were fixed and up and running and pretty pleased," Burkhow said. "We were out pulling our gear until about dark."
'Here comes a big one!'
Though the engine was working fine, when dusk fell, the crew discovered another issue. The generator was not working. Crabbing boat crews often work through the night, pulling pots using lights and reflective tape.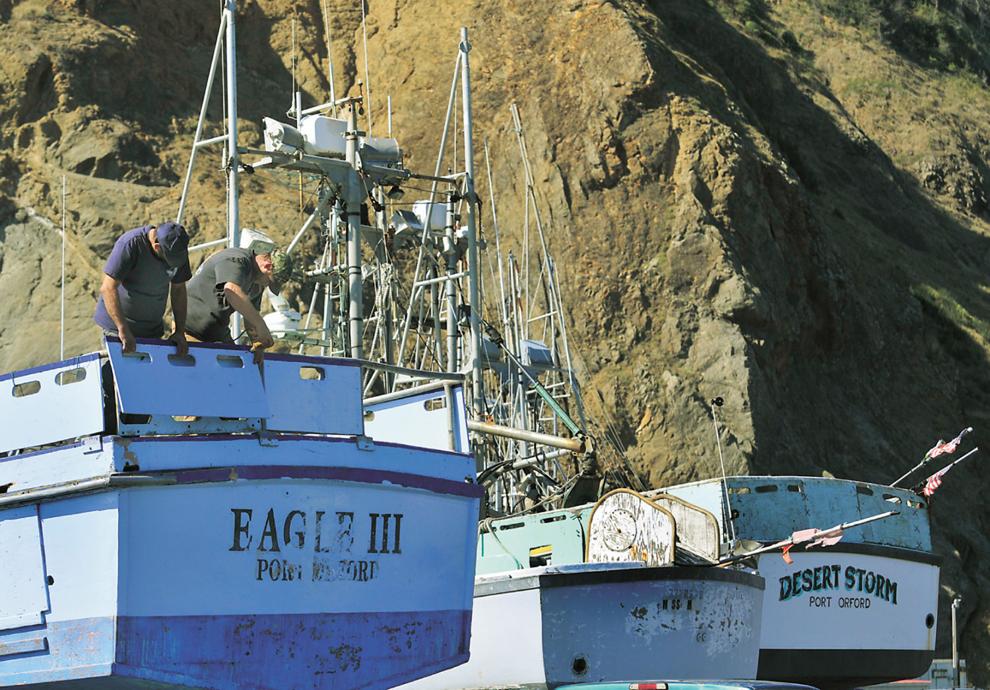 Without generators, there are no lights. Burkhow made the decision to head back to port and go back out in the morning. He used the boat's inverter to run one of the big lights as he approached the "green can" — the large green buoy that marks the channel at the entrance to the bay. The boat was positioned in the middle of the channel, on just the right side of the buoy, heading in, lights on.
"I mentioned to the guys that I wanted someone at the back door of the wheelhouse to watch for sneaker waves," Burkhow said. "No more than when I said that, then Blaine said, 'Here comes a big one!'"
Then the wave hit.
That was the last time Burkhow would hear or see any of his crew.
"This wave was huge," he said. "It teetered off the tip and the bow came down and the boat broached. It was like being on a surfboard sliding sideways. We were going faster than we probably ever have. I had no control."
Burkhow then heard an "ungodly sound," and saw whitewater as the boat rolled repeatedly.
"The crew had been right beside me in the wheelhouse, but I know they must have run out the door when the wave hit," Burkhow said. "It's hard to imagine, but the boat didn't stop rolling. Then it came to kind of an ease and the wheelhouse was full of water and I'm bouncing off the walls and ceiling and floors. I'm panicking, trying to get out and get air."
After being submerged, then sucking in sea water, Burkhow pushed himself through the hole on the bottom of the upside-down boat, but got stuck at about chest level.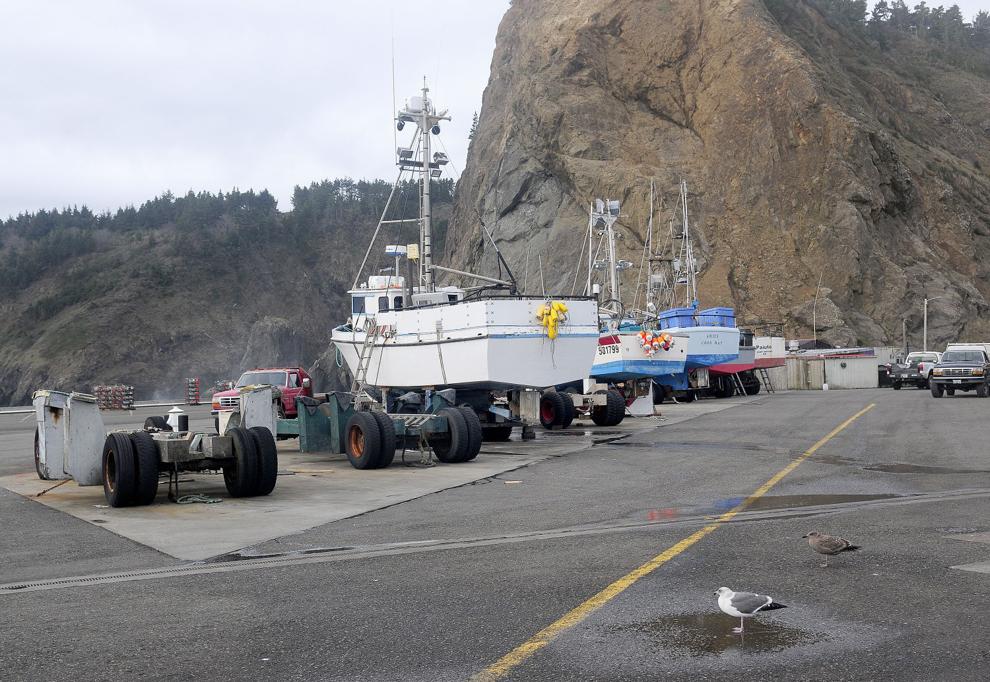 "I tried to get out of that hole and fought for my life trying to get out, but I couldn't get out, no matter how hard I fought. I just couldn't get out."
He heard the sound of another wave and the boat rolled again. Burkhow, still stuck, rolled with it. At some point in the rolling, he was sucked back inside the boat, trapped in water.
"My arms went over my head and I started relaxing," he said. "I thought it was over. I had nothing left, my fight was over and I felt like I was sinking."
Then he heard what sounded like an explosion. Burkhow doesn't know for sure, but he believes the sound was the bow ripping apart and the cabin detaching from the hull.
The next thing he knew, he was ejected from the boat and came shooting out of the water to the surface. Another rushing sound, and a wave picked him up and slammed him onto a rock. Burkhow dug in with his fingernails and feet and straddled the rock for dear life. He remembers thinking that despite hanging on, he wouldn't be able to get anywhere from that rock.
"I didn't have to worry about that for long, because another wave took me back out to sea and at that point I could see the life raft that had deployed but part of it was demolished, and on the other side I could just see a small piece of the back deck of the boat floating in the water," he said.
Cold and dark walk
Another wave came rushing at him. This time it picked Burkhow up and threw him almost on top of the north jetty. Drained, but driven by adrenaline, Burkhow pulled himself up and began walking. Luckily, he still had his mules on, but his clothing was in shreds. He wasn't wearing a flotation device — none of the crew had been. But they were all wearing rain gear. The weather on scene at the time of the incident was reported as 31 mph winds and 8- to 10-foot seas.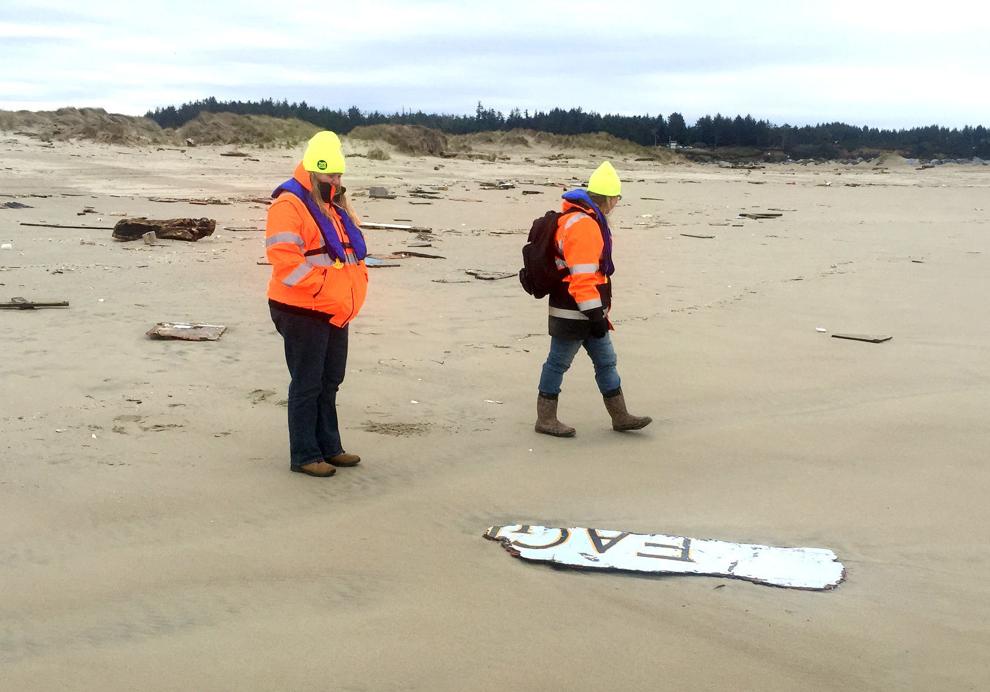 Burkhow's first thought was that he had to find help for his crew. He started walking, but it was dark and he was disoriented. Soon the ocean's roar got louder and he felt splashes and the wind on his face. He realized that he was walking toward the ocean, so he turned around.
"It was so dark, and it was cold — so cold. I was cold and scared and knowing I needed to get off that jetty," he said.
"I wouldn't advise anyone to go out on that jetty," Burkhow said. "But I made it down that jetty, which is quite a god-danged ways."
Burkhow got to sand and saw a sand rail, which he started walking on, and the next thing he knew, he was on the beach, going toward the water. He turned around again.
"At some point I just wanted to lay down and rest," he said.
Then he remembered his brother. When Burkhow was younger, his brother became lost in the woods. He was never found. An officer told the family that their son and brother had probably laid down to rest, and was buried in the snow, where he likely died from hypothermia.
"I wanted to lay down, I was so tired, but then I saw the Coast Guard overhead and a light missed me by about 20 yards. I was so far from shore by then that I kept walking."
The U.S. Coast Guard had been alerted through the boat's Emergency Position-Indicating Radio Beacon — a distress beacon used by mariners worldwide to alert search and rescue forces that they are in distress.
Soon Burkhow saw pavement, a barbed wire fence and a little building with lights on. He climbed over the fence, getting caught in the barbed wire, then beat on the door. Burkhow said a man answered the door and he explained to him frantically what had happened and that he needed to call 911, the Coast Guard and his wife.
The man reportedly shut the door, had a heated conversation with a woman inside, then opened the door and asked Burkhow what his problem was. Burkhow explained again what had happened and the man asked him, in no uncertain terms, if his boat had capsized, why wasn't he out there looking for his crew? The man finally reluctantly agreed to take Burkhow to the Safeway in North Bend, and allowed him to use his phone to call his wife, Brenda.
Brenda used caller ID to give the number to the Coast Guard, who called the man and convinced him to bring Burkhow to the Air Station in North Bend.
At the Coast Guard station, a group of paramedics took care of Burkhow, helped him strip and put him in a hot shower. They wanted him to get checked at the hospital, but he refused, saying he wanted to stay at the air station to help if he could.
"I probably wouldn't have been much help out there, the shape I was in," he said.
Crew remembered
A few hours later, the Coast Guard found the body of Steinmetz, but the two others remain missing.
For the past several days, even after the Coast Guard suspended its search, friends and family members have been scouring the beaches from Winchester Bay to Bandon. Burkhow cannot say enough about the professional, thorough and kind efforts of the Coast Guard members.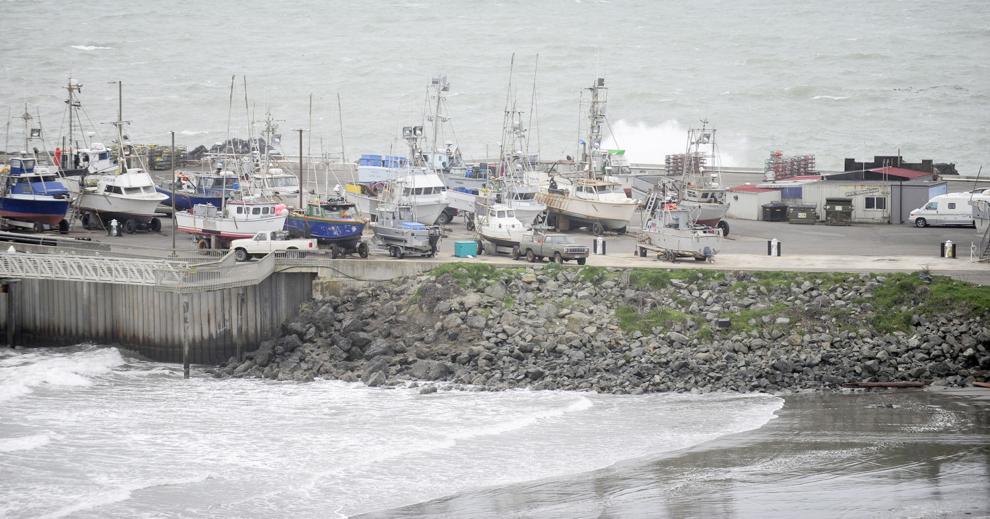 Since the accident, Burkhow has been recovering from multiple bruises and lacerations, plus a broken tibia. He is upset that it has been reported that the Eagle III hit the jetty.
"That boat never hit the jetty until after it was broken up," he said.
Steinmetz has a son James, 26, from Port Orford, who has fished with him, as well as two daughters, one 23 living in Utah, one 12, who lives in Port Orford, and a step-daughter in Washington. He is also survived by his wife, Julie, of Port Orford.
James said his father had a degree in psychology and worked in the Utah prison system, helping inmates work through their problems. About 20 years ago, he wanted to do something different, so he moved to Port Orford to become a fisherman.
"He was laid-back, a very compassionate and comforting, wise man," James said.
Services for Steinmetz were held Monday in Port Orford.
The boat was not insured — "that's common, it's so expensive," Brenda said. A fundraiser is being planned for Feb. 6 and 7 in Coos Bay and two GoFundMe accounts have been set up, as well as an account at Rogue Credit Union, to help the surviving families with expenses.
Burkhow has spoken with all the families.
"I'm trying to be there for them," he said. "I'd give anything and all for (my crew) to be back here. I'd give my place to have them back, but you don't get that option. I don't know why or how I'm here. Four families' lives are forever changed and I'm here to tell the story and they're not. It's really crushing."
Burkhow hopes that Paulus' and Matlock's bodies will be recovered so the families can have closure. He and Brenda and their two daughters, son and granddaughter, as well as the other families, are overwhelmed by the support from people who are helping from all over the South Coast and from out of the area — some of them complete strangers.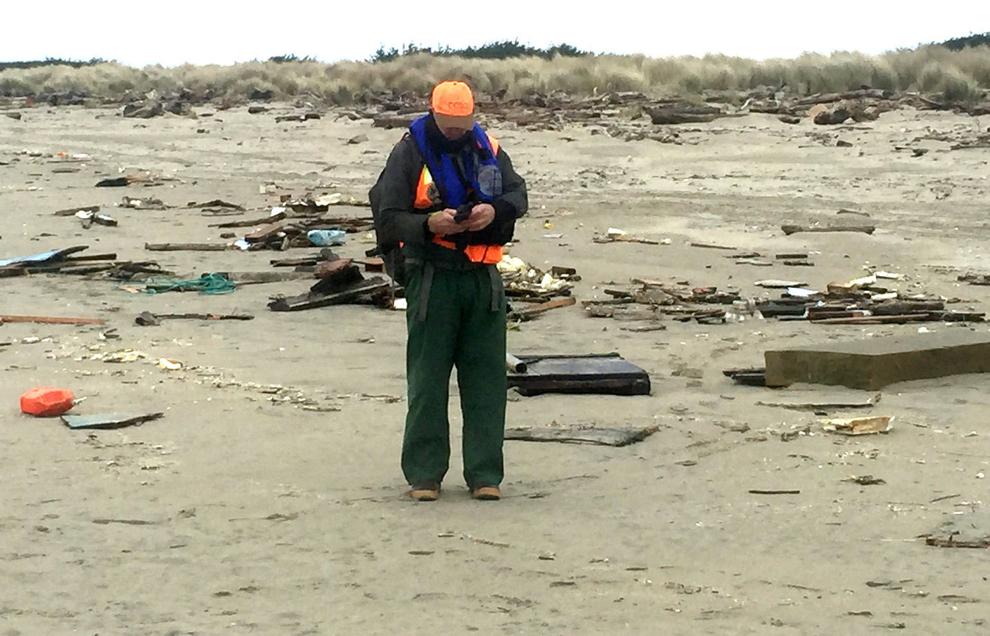 As for the boat, pieces of it have been washing up on the beaches of the North Spit, "basically toothpicks," Burkhow said. His livelihood is gone.
The blow is just the latest one for the family. The Burkhows lost their home in a fire last June and almost lost their daughter after childbirth. Glenn survived a horrible car accident.
"I think someone must have voodoo dolls of us," Brenda said.
Sgt. Pat Downing with the Coos County Sheriff's Office said the investigation into the accident will not be complete until the bodies of the missing crewmen are recovered. 
"There are still some active things our office is doing in regards to that investigation," Downing said. 
Since the Jan. 19 accident, another fishing vessel capsized on the Coos Bay bar Jan. 26 and a Winchester Bay resident, Raymundo Cardoso, died as a result. Ironically, the Sara Jo capsized as it was out attempting to retrieve the Eagle III's crab pots.
But these are the risks that fishermen take daily. And, like others, fishing is in Burkhow's blood. His father was a fish buyer in Brookings, and his mother worked at a fish processing plant. Burkhow's been fishing for 38 years, from Alaska to Morro Bay, Calif., and has never had an accident. But right now he can't even look at or listen to the ocean.
Still, he thinks he'll probably fish again someday.
"Most people go to work and can't wait for the bell to go home," he said. "But not me. Fishing is my passion. The countless hours don't matter. That's my life and that's what I know."