BANDON — Leading up to Memorial Day 2018, the leadership class of Bandon High School initiated a campaign to raise funds to purchase a memorial brick for 1939 BHS graduate, Walter C. Wann Jr. Members of the class presented a check last week in the amount of $161.41 to Bill Smith, also a BHS graduate and Vietnam War veteran, who is on the Bandon Veterans Memorial Project committee.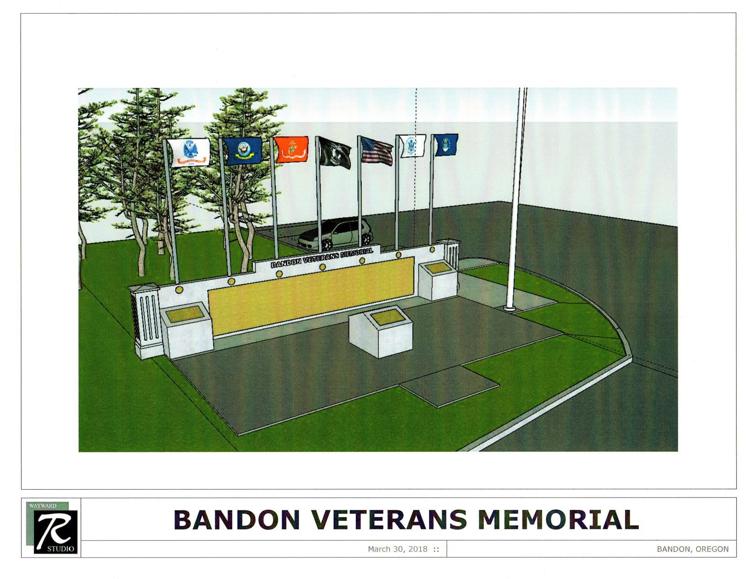 The Walter C. Wann Jr. brick will be displayed on the Bandon Veterans Memorial, which will soon be constructed in Bandon City Park. Since there are no known survivors of Wann's family, the leadership class, instructed by teacher Kevin Haan, decided to raise money to purchase a brick for Wann. To do so, they had a competitive coin drive between classes.
Walter "Buzz" Wann joined the Navy in December 1939. On Aug. 7, 1942, while assigned as a corpsman with the Marines, Petty Officer Wann, with utter disregard for his own personal safety and under direct Japanese gunfire, sprinted back and forth on a causeway between Gavutu and Tanambogo Islands, rendering aid and returning casualties to the aid station. He remained attached to Marine units in the Guadalcanal campaign until he was killed in action on Nov. 4, 1942.
Pictures of Wann and his fellow Corpsmen and Marines landing on Guadalcanal and, later, carrying wounded marines from the jungles, appeared in the 1942 edition of the Saturday Evening Post. Wann's body was returned to Bandon and interred in the GAR Cemetery.
In recognition of his exceptional courage, Wann was posthumously presented the Silver Star Medal, the nation's third highest award for valor. Wann was further honored by the Navy when, in January of 1944, his mother, Anna Wann, was invited to christen the Navy's newest destroyer escort, the USS Walter C. Wann (DE-412). The battleship went on to win four battle stars in the Pacific Campaign.
"There are people who get put into extraordinary circumstances and he rose to the occasion," Smith said.
While attending BHS, "Buzz", as he was known by his classmates, played left guard on the football team and specialized in the shot-put and javelin on the track team. Beside Buzz, at the center position on the 1939 edition of the Tiger footballers, was none other than "Big Mac" Don McDonald, who later, following his own naval service, returned to Bandon to become the town's long-time, respected and beloved chief of police.
Outside of school, Buzz was an accomplished boxer and was prophesied by classmates to become a professional boxer. A picture labeled "Strong Men" in the 1939 annual featured Buzz and Big Mac, along with two others. While obviously strong and stout, Buzz, apparently, did not let it go to his head. In the 1939 class will, he "willed his respectful and reverent nature to Gene Engblom, not as a hint, but as a gift."
Along with memorializing Walter C. Wann, the members of the student body of BHS were the first to donate to the general construction of the Bandon Veterans Memorial Project.  Those donations were in excess of $500.
"The effort of our students has been an honorable undertaking, something that our school and community can look back on with great pride for years to come," Smith said. 
To donate to the Bandon Veterans Memorial, those interested can make checks out to the Memorial Donation Account and drop them off or mail them to the Bandon VFW, P.O. Box 992, Bandon, OR 97411. To purchase a memorial brick in the name of anyone currently serving in the military or who previously served, living or dead, pick up a form at the VFW, City Hall, Bandon Public Library or the Bandon Historical Society Museum. Donations of at least $500 and above will get the donor's name, organization or service club name memorialized on a special donor area of the wall.
The Veterans Memorial group meets on the first Wednesday of each month at 6 p.m. at the VFW Hall on Bates Road and anyone is welcome to attend.