BANDON - Forty-five Bandon High School seniors graduated on Saturday night in front of a crowded gym filled with family and friends of the Class of 2018. 
Students were not only sent off in style, but many class members were awarded scholarships from local groups and individuals as well as colleges and universities. Though some of those scholarships won't be used because students received offers to more than one college or university, in total, more than $900,000 was awarded.
One student, Keeton Jennings, who was accepted into the U.S. Merchant Marine Academy, received a scholarship of $68,000 per year, renewable for four years, to attend the academy, a total of $272,000 - the highest amount any student received in the class. He is the first from Bandon High School to attend the academy.
Valedictorian Sailor Hutton received, among many other scholarships, one that pays for 70 percent of her tuition at Boise State University, where she will run on the track and cross country teams. Salutatorian Aryahna Converse was named a Ford Scholar by The Ford Family Foundation, which pays for 90 percent of her unmet school-related financial needs, up to $25,000 per year for four years. Converse will attend Western Oregon University. 
Others received scholarships or tuition waivers from Oregon colleges and universities, including several from Southwestern Oregon Community College, the University of Oregon, Oregon State, Western Oregon and Portland State.
Many local clubs and organizations also awarded scholarships, including Rotary, Lions, Kiwanis, Dew Valley, VFW, Odd Fellows, Elks, Masonic Lodge, West Wind Court, Francis Stadelman Trust and the Class of 1968 50 Years Later Scholarship, among others. A large amount of scholarship money came through the Oregon Community Foundation from specific funds, including the Mike and Lindy Keiser and the Sprague, Mudd and Day families.
Sailor Hutton and Converse both gave speeches, along with class president Sydney Flynn.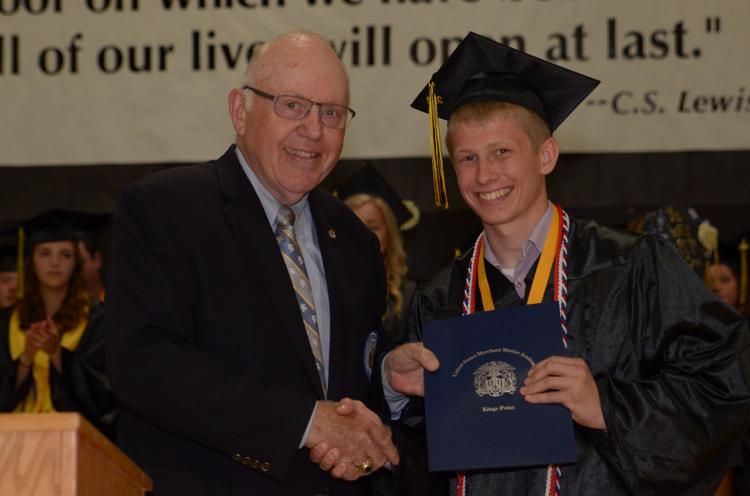 "Now that our high school days are over, we cannot go back, or change anything from the past," said Hutton, whose twin brother Hunter also graduated. "What really matters, is what we do next. It is how we decide to use our past experiences to shape our future. It is how we make an impact on those around us from here on out. So, I challenge you, class of 2018, to ask yourself a question. How will each of you make a positive impact in this world for the future?"
"Those who persevere, who give it their all, and approach each day with optimism will ultimately find success," she added. "Of course, each of us will experience our own failures on the long and windy road of life, but with dedication, we can do anything and turn these stumbles into a drive that powers our dreams into our realities."
Hutton thanked the school staff, school board, students, family and community members for their support over the past 13 years.
Converse also thanked the people who helped class members along the way and specifically mentioned a few teachers.
"On behalf of our class I would like to thank Mr. Haan for tolerating us through our rambunctious class meetings in his room, Mr. Angove for telling us just exactly how it is, and Ms. Murphy for always making us laugh while still guiding us in the right direction," Converse said.
"Tonight it is hitting us that this is going to be the last time all of us our going to be in the same room together and that may be terrifying and heartbreaking for many of us, but now we have the resources we need to succeed in life," Converse added. "Our friendships that we have forged will be a part of our hearts forever and the lessons we have learned, will provide us with a strong foundation to achieve our dreams. This last week we have learned so much about each other as individuals as well as our dysfunctional little family, and I look forward to seeing where each one of us ends up in five, 10, and even 20 years from now."
Flynn talked about the memories class members will cherish as they go into the next chapter of their lives.
"We will remember sitting in the freshman hallway for lunches together, getting a dad talk from Mr. Hatfield, Autum falling out of the raft on the senior trip not once, but twice, and who could forget the day Jacob wore a dress to school? All of these events seemed insignificant at the time, but they have become some of the memories we now look back upon to make us smile," Flynn said.
"Some of us here tonight are wondering what we are going to do with our lives from here, and how everything is going to turn out," Flynn added. "While some of us know exactly what we want to do and who we aspire to be. We can add this day to the list of our greatest accomplishments, and help it drive our dreams, goals and future. This is a good start to the best days of our lives."
The students spent a week prior to the graduation ceremony making memories of their final days in high school. Class members went on a senior trip to Bend, took part in a senior barbecue, baccalaureate ceremony and spent the day Friday on a jet boat trip and picnic up the Rogue River. 
Following graduation, class members attended an all-night party in Coos Bay and Bandon, sponsored by Project Graduation. The seniors enjoyed pizza, a visit to the Bay Area Athletic Club and other activities, ending with dozens of prizes awarded in the BHS gym in the early hours of the morning.
"The door on which we have been knocking all of our lives will open at last," was the class motto, a quote by author C.S. Lewis.