Let's get right to business. Steelhead is still going on for the folks who still care. But to be honest, those numbers are dwindling rapidly (people who care that is). Keep in mind, however, that there are still big fish coming through and less people fishing means more bank space. We're hitting that time of year when the bay starts really coming alive and we've been seeing copper, blue and black rockfish being caught, along with greenling and some really big blue striped perch.
We also have had reports of limits of Dungeness inside the bay, as well. It sounds like they are a smaller grade and you really have to work for them, but fish for rockfish at the same time and you can make a day of it! Crabbing in the ocean has picked up and while the commercial fishermen have caught most of the commercial legal crab (6.25 inches and over) that still leaves a lot for us sport fishermen.
Surf perch fishing is still good when the waves aren't too big and the same rules apply for the ocean, which is the fishing is good when the waves aren't too big and we can get out. Captain Sharky has been on fire with the rockfish and lingcod lately and last week he was bringing in limits of ling in the upper teens to 30-plus pound range! In addition to this we have seen some beautiful canary rockfish which of course we can now keep, and some widow rockfish mixed in.
The widow rockfish have been creating somewhat of a problem here at the shop because whenever we are talking about the widow rockfish people think we are saying "little rockfish" but with a lisp. It's akin to the old Abbot and Costello routine of "who's on first."
An actual example is "Captain Sharky brought in some nice ling and widow rockfish" to which someone replied "if they're little why did he keep them?"
Before we dive into today's topic, which shall be the "little widow rockfish," I want to spend some time on our numero uno fish catching dude, Captain Sharky. I mention him often in my articles because frankly he is the "catchinist" charter boat captain in these parts and as modest as he is I have no doubt he will hate me for talking about him today. Bah, too bad for him.
When I first bought Basin Tackle I noticed a commercial fishing and crabbing crew that were the first people out, the last ones in and in general some of the hardest working fellas out there. That crew was Captain Sharky (John) and the best deck-hand around, Jim. As our relationship of store owner and customer grew I learned more and more about Sharky, including his genuine love of all things fishing, his degree in marine biology, the fact that he is licensed to internationally operate 100-ton vessels and so much more.
In these past years our relationship has grown into a friendship and the Captain and I often fish and hunt together. Captain Sharky is now even my co-host on the Basin Tackle Outdoors Show every Wednesday at 3 p.m. on KWRO. The Captain has been instrumental in the success of Basin Tackle and in addition to this I can honestly say he is the only captain I know that I would entrust the safety of my children with on the water — and THAT, my friends, is as good a recommendation as I can give anyone.
I get nothing for promoting Sharky other than he is amazing representation for both the area in general and my business in particular. Give him a call any time for steelhead, salmon, rockfish, tuna, lingcod and sharks! Sharky is the only one that has the Basin Tackle five star seal of approval! His number is 541-260-9110, tell him I sent you!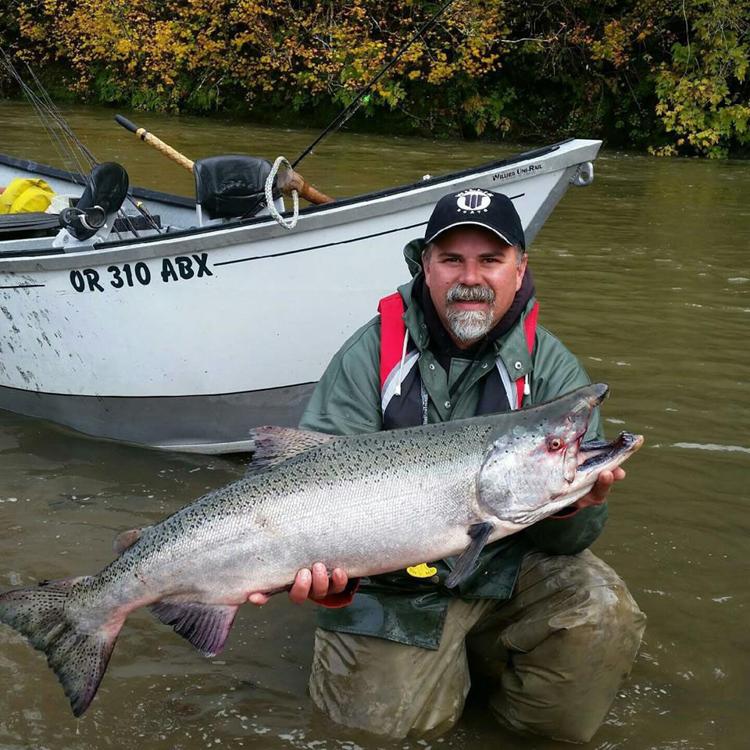 Now that I've shamelessly promoted Sharky behind his back let's get to the days topic. The widow rockfish is sometimes also referred to as the "brownie," and they range from Baja California to Alaska.
The little … er, I mean, widow rockfish can grow to about 2 feet in length or 6 pounds and live to a ripe rockfish age of about 60 years. The widow is an olive/bronze color with a sharply sloping forehead and relatively small mouth for a rockfish. These critters eat a lot of free floating animals such as crab spawn and squid and will even chase down the odd anchovy or two for a change of pace.
The widow rockfish do not lay eggs but give live birth to their young. The numbers of offspring can vary from 55,000 to almost a million, which makes naming them very difficult. Ultimately most of the young end up referred to as "hey you" by their parents.
These rockfish are most common from 450 to 700 feet in depth but can live anywhere from about 100 to 1,900 feet. While these fish are good table fare as most fish are I've heard from some fish markets that the meat does not refrigerate or store as long as most other species of rockfish. I guess the moral of the story is to make your fish tacos that night.
Whether you are cooking up some fresh widow rockfish or chasing the big ones with Captain Sharky I hope to see you out there!
Rob Gensorek is the owner of Basin Tackle www.basintackle.com in the Charleston Marina and can be reached by phone at 541-888-FISH, by Facebook at Basin Tackle Charleston, or email at basin_tackle@yahoo.com. Robs fishing reports can be heard daily at 6:20 a.m. and 4:20 p.m. on KRSB Best Country 103 out of Roseburg and his Basin Tackle Outdoor Show can be heard Wednesdays at 3 p.m. and Saturdays at 6 a.m. at kwro.com. In addition to all this he sometimes actually gets out and catches a fish or two.