FOREST GROVE — Marshfield junior Chase Howerton took a look at the hoop and let the ball fly, a desperation 3-pointer from some 30 feet out.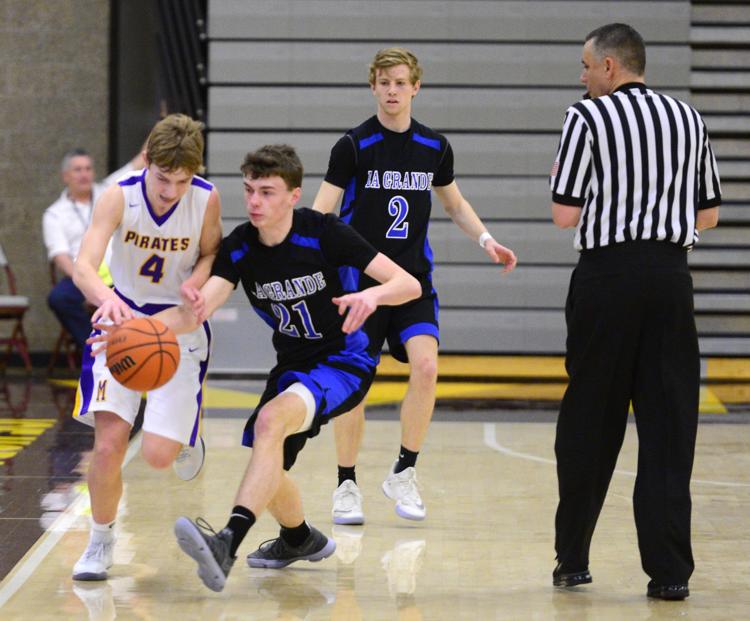 The shot banked in at the buzzer, forcing overtime in Saturday's fourth-place game against La Grande at the Class 4A state tournament. Four minutes later, Marshfield was celebrating a 69-64 win and the team's best finish at state since 1981.
Marshfield was out of timeouts and trailing 56-53 after a free throw by La Grande's Nojah Chamberlain with just under 20 seconds to go.
As the clock ticked inside 10 seconds, Jordy Miles looked for a shot, then looked for teammate Grant Webster, who was bottled up by La Grande's defense.
"Chase was open and he called for it," Miles said.
"I didn't think we were going to get a shot," Howerton said. "Jordy got trapped. I knew I had to get open."
He said the shot felt good when he let it fly. His hunch proved true.
"If anyone deserves this shot, it's him," Marshfield coach Doug Miles said. "He's the hardest working guy in the world."
When the extra session started, Marshfield rode the momentum to the victory.
Webster hit two free throws and then a jumper to open the extra session. Jody Miles added a drive to the hoop after a free throw by the Tigers. Grant Woolsey had a big block on a 3-pointer by La Grande and hit two free throws and the Pirates stretched the lead to as many as eight before La Grande's Braden Bell hit a 3-pointer at the buzzer.
Doug Miles said he was proud of his team, playing in the morning for the second straight day after a quarterfinal loss.
"What a great basketball team they were," he said of La Grande. "We just earned everything that we had. We just gutted it out."
And, he said, the Pirates got a little luck at the end of regulation.
"It was lucky," he said. "We deserve some luck this week. You work hard enough and sometimes you get lucky."
Jordy Miles had a sensational game for the Pirates, scoring a career-high 23 points, to go with four assists, five rebounds and two huge steals in the fourth quarter. Webster, who later in the evening was announced as the only unanimous all-tournament selection, had 19 points. Howerton scored 13 and Cory Stover had six points, 13 rebounds and three blocks.
"Their whole game plan was to not let Cory score and make the other kids step up, and they did," Doug Miles said.
"It was a team effort," Jordy Miles said. "They were using some different defenses on us."
Howerton said it wasn't Marshfield's offense that was the key.
"I think we won it with defense," he said. "I think our bigs did a good job getting boards and our guards put on a lot of pressure."
Nojah Chamberlain had 16 points for La Grande, including four second-half 3-pointers. Kaden Chandler added 11 points and GT Blackman had 10.
Marshfield hadn't won a boys state tournament game since the 1981 season before Friday.
"It feels amazing," Jordy Miles said. "We were looking for one win and we got two. It feels good to go out on a win."
Howerton said he will cherish the week.
"This tournament is so tiring," he said. "But it's something you will never forget."
Marshfield's top six players all will be back next year, when the Pirates hope to make another tournament run, but Jordy Miles pointed to the five seniors who were so valuable in practice and games all season.
"Those seniors really helped us out this year," he said.
Marshfield has the fourth-place trophy to show for it.