Women in leadership roles are commonplace in the 21st century. But the Coquille Indian Tribe is notable for concentrating a big share of authority in female hands.
Of seven members on the tribe's ruling Tribal Council, five are women — including the chairperson and vice chair.
The CEO of the tribe's economic development corporation is a woman. So is the general manager of the tribe's biggest enterprise, The Mill Casino-Hotel & RV Park.
Likewise the director of the tribe's housing authority, the tribe's human resources director, and its controller.
Also the directors of the tribe's three largest departments: the tribal health center, the community center, and the culture and education department.
The prominence of women is rooted in tribal culture. In the millennia before white settlement, the Coquilles inhabited a far-flung homeland. Tribal Chairperson Brenda Meade notes that men spent much of their time traveling to hunt, fish and trade. The women were left to run the village.
The devastating effects of Euro-American settlement intensified the importance of Coquille women. When coastal Indians were herded to a reservation in the 1850s, a handful of Coquille women were allowed to stay behind with their white husbands. Those women are revered ancestors of many Coquille members.
That history resonates in the modern Coquille Tribe. At a historic 1997 intertribal potlatch, the late George Wasson Jr., a Coquille elder and noted anthropologist, urged tribal women to "reassume your ancestral power. Take your rightful places and put us all back together again."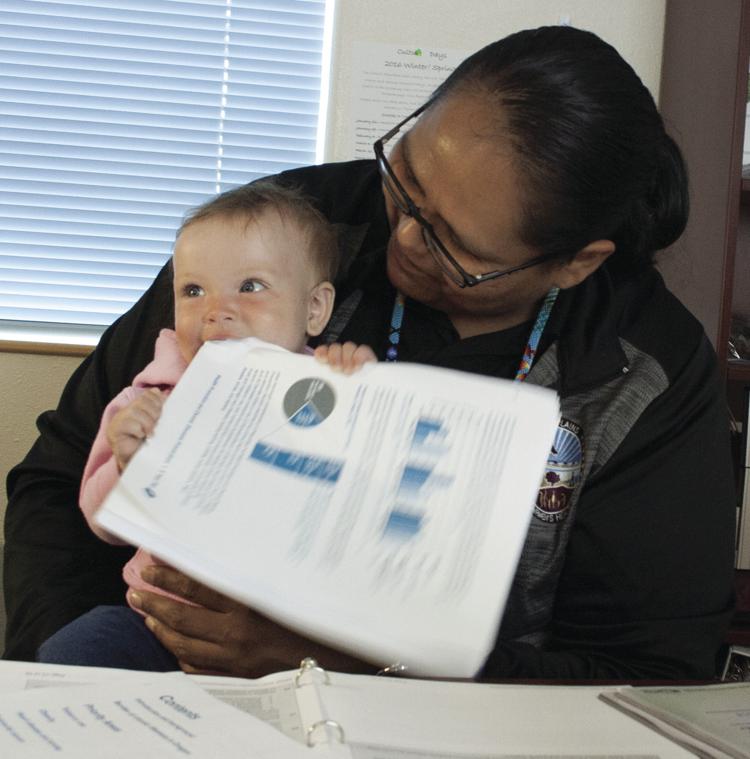 Meade, 45, is among those who answered Wasson's call. After taking a job with the tribe in 1994, she served on various committees and boards, and then she ran for an open seat as the tribe's vice chair.
She won that election, and the chairman at the time, Ed Metcalf, became her mentor. When he decided to retire, he recruited her to run for his job.
"I asked him, 'Is there a job description?' He laughed. He told me the most important thing is to be fearless."
Tribal Council member Joan Metcalf (a distant cousin of Ed Metcalf) says Meade demonstrates that attribute.
"She steps up," Joan Metcalf said. "She's not afraid to face whatever comes our way."
Besides being the tribe's political leader, Meade is an active participant in tribal culture. She personally stitched and beaded much of the regalia worn by dancers at tribal ceremonies. She and her husband, Lyman Meade, organize and lead the weekly dancing and drumming practice.
"I know I couldn't do this job if I didn't have a connection to my community," she said.
Female influence is probably a factor in the tribe's family-friendly workplace policy. Among other things, the policy lets employees care for their babies at work. It can be a lifeline for a new mother.
Fauna Larkin, the tribe's assistant health and human services administrator, brought her daughter along when she returned from maternity leave this year. She had doubts, but her supervisor encouraged her to incorporate the baby, Fauna Beth, into her day.
That included impromptu breastfeeding if Fauna Beth got hungry during a meeting. Larkin even draped a cloth across her shoulders to nurse while presenting a report to the Tribal Council. No one blinked a disapproving eye.
Now that Fauna Beth is big enough to be active, she spends her weekdays at Grandma's house. But she still visits the office daily, accompanying Larkin on her morning rounds. Staff members greedily reach for Fauna Beth while updating Larkin on their projects.
Human Resources Director Rachele Lyon says she advocated for the bring-your-baby policy because it eases the stress of being separated from a newborn.
"Tribal values are about family," she explained. "They are about balance, about being whole."
(Lyon notes that the policy applies only in departments where a baby's presence is practical. It doesn't include the tribe's casino.)
As a woman building a leadership career in her tribe, Larkin is grateful for the organization's family orientation. Fauna Beth seems to be, too. At her mom's workplace, she revels in visiting each office in turn, being handed from one welcoming embrace to another.
Soon enough, it will be Fauna Beth's turn to assume her ancestral power.