On any given day along the Southern Oregon Coast, drivers can see cyclists riding along U.S. Highway 101 as cars whiz by.
But mountain bikes? Not so much.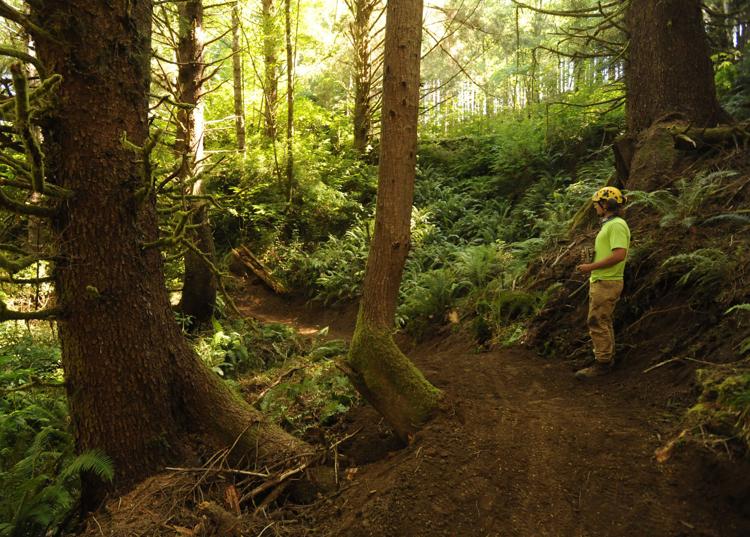 That's about to change this fall after the completion of a Coos County mountain bike trail.
The trail — planned for the West Beaver Hill Road and Whisky Run Road area — will be non-motorized.
Initially there will be 11 miles, with more to come.
Ed Kessler's company Ptarmigan Ptrails has been contracted to build the trail.
The $250,000 construction project is mostly being funded through a grant from the State Parks Recreational Trails Program.  
Kessler said the goal is to have a year-round trail system, despite skeptics who think it rains too much for that.
"It can be done it's just you have to do it right. And it's not putting a trail straight up or straight down a hill or routing along an old road. It's building new trail to a sustainable standard that is the industry standard," Kessler said.
He said the trail will drain water effectively and follow the natural contours of the land.
His wife, Erin Kessler said if the trail is built well, it will keep people who would otherwise stay indoors riding in the winter.
"Especially the inclement weather kind of deters, because our current trails that we have at Blacklock or Cape Blanco, they all flood. And people get frustrated and they put their bikes away and then they don't do anything all winter. So if there's an opportunity to still get out and recreate because the trail's built well... it's going to really explode," she said.
The couple said people are driving to places all over the state to ride mountain bikes.
"There's families in Bandon, Port Orford, Gold Beach. I mean they drive to Corvallis, they drive to Bend, they drive to California to go ride. And we want people to do that here and when they're done maybe stay at our campground or some of our hotels, spend some dollars in our community," Ed Kessler said.
The pair is new to the area. They bought a home in Port Orford after moving from Alaska.
Erin Kessler said in Alaska they saw a cycling community develop and hope to see the same happen on the South Coast, albeit in a way that fits with the coastal lifestyle.
"The whole South Coast is trying to develop and expand our recreation tourism infrastructure in a way that fits our culture and our coast here," Ed Kessler said.
He said the bike trail is going into an area that doesn't have any sort of recreational development and can still fit in with logging.
"It creates a better stewardship of the forest. Getting people into the forest, using the forest in-between logging operations," he said.
"Yeah, sure it might get logged again. That's fine we'll just build more trails because there are going to be more riders and more people that have found stoke on this," she said.
For Ed Kessler, it's not so much a lack of excitement, but a lack of funds holding projects like this back.
"There are a lot of people who want to see things happen, they just don't have the capital," Ed Kessler said, "We're working really hard as a group to make this a place where people come ride and where people want to live here because the riding is good. And it's going to take a long time, but it's happening."
A bike trail isn't the only type of trail that's in the works for the South Coast.
Five years ago, Dave Lacey caved to what he called "three years of consistent peer pressure." As a result, South Coast Tours was formed.
Since then Lacey said he's seen his kayak tour business grow exponentially — from 15 tours the first year to 430 last year.
He said the company provides a unique experience that no one else is doing in the area.
"I think it's just a niche that no one else is filling and it's a growing sport for sure, you just see more kayaks on people's cars everywhere," Lacey said.
In the summertime, the guide said he gets visitors from all over the world.
"It started out as people would show up here and they would find out about me from business cards or do an online search. But now it's become people are booking their tours in January and then they figure out where they're going to stay after that," Lacey said.
Lacey's company does tours all over the South Coast, from Brookings to the South Slough. Most recently, tours have been expanded out to the Coquille River with help from Bandon resident Brian Kraynik.
The expansion is part of a plan to create a designated water trail on the Coquille River.
Kraynik said he was initially looking to make it a state designated trail, but backed away in favor of more local control.
The potential 41-mile trail would go from the mouth of the river in Bandon to Hoffman Myrtle Grove State Park. The long term goal is to have interpretive signs and camping along the river.
Right now, Kraynik said the lack of restroom facilities on the river holds some people back from using it at all.
"Everything I do is about creating more marine infrastructure, because I see a glaring need for it," Kraynik said.
He said he wants to create commerce in an area where there currently is none.
"It's so rich in history and ecology and you look around and there's a lot of blight," Kraynik said, "And I think we can do better."
However, he, like many others, said infrastructure is the biggest obstacle.
"With ecotourism it all comes back, it really, it takes infrastructure," Kraynik said.
Getting South Coast residents on board with tourism is another challenge.
"It's going to be a very slow shift. It's more of a grassroots generational shift when people see the benefits," Kraynik said, "It's tricky because we have a segment of the population who doesn't want any growth."
Lacey said he first moved to the area a year after the Northwest Forest Plan was implemented.
Since then, he's seen a change in the demographics, from working families to more retirees.
"When I first moved here I was very guarded of it, because I felt like I found this awesome place. I wasn't in the tourism industry and I was like 'I don't want more people coming here' because I was afraid it was going to get ruined."
Now things have changed for him.
He's a member of the Oregon Coast Visitors Association and sees the benefit of tourism to the area, something he said other residents might not understand.
"Now that I'm in the industry I'm promoting tourism and that means more people are going to come here, right? But what I'm hoping to promote is the right kind of people that come here, people that want to take care of the resources, " Lacey said. "Yeah, we're bringing more people here, but we're bringing the right kind of people, I hope."