BANDON — Bandon Dunes Golf Resort is on every serious golfer's bucket list. It's just one of those courses you absolutely must hit if you profess to be a true enthusiast of the sport.
The resort's popularity and widespread praise for providing some of the world's best courses have brought thousands of people — and millions of their dollars — to the South Coast over its 16-year history. This has helped Bandon Dunes to become one of Coos County's greatest economic boosters in terms of payroll, taxes and a host of indirect economic benefactors.
Its financial success, combined with the owner's atypical philanthropic notions, have allowed this seemingly isolated resort to play a major role in community and economic development efforts along the entire South Coast.
A vision of building a golf course that would rival any from the Old Country helped highlight the small town of Bandon as a destination, and that has helped a struggling region find an economic toehold on its way to recovery.
The man behind the vision
Bandon Dunes owner Mike Keiser wasn't always a respected golf baron. His initial success came from green greeting cards. He and co-founder Phil Friedmann started the successful Recycled Paper Greetings in a two-bedroom apartment in Chicago in 1971, well before going green was popular.
At some point, he fell in love with the game of golf, playing on some of the best courses. To learn more, he traveled to Scotland to discover the game's origins and traditions, and experience the elements of the land where it was invented.
While he played the world's top courses, many were private clubs. Keiser believed every golfer should have the opportunity to play the greatest courses. The seed for a new business venture was planted.
His first course was nine holes on Lake Michigan. This eventually became the highest-ranked course in the country. He now owns more than a dozen golf courses, all open to the general public, in locations throughout the world. Perhaps his best-known course, however, is in Bandon.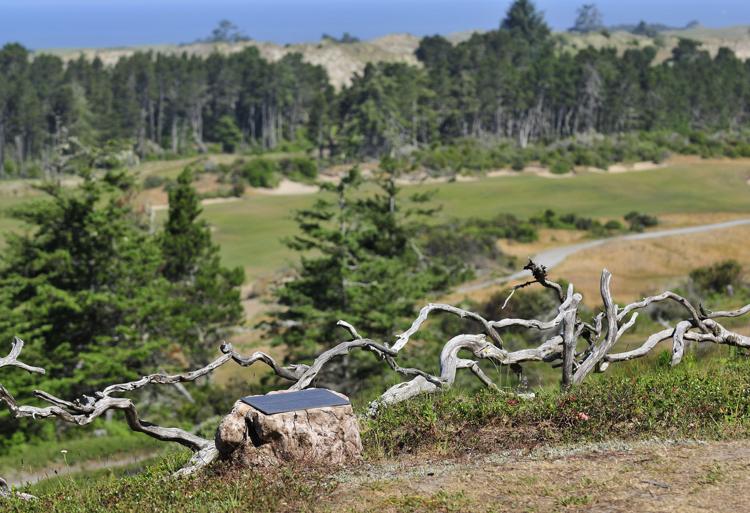 Shorty's law of the land
Keiser built this dream course, hiring the right people to tame the rugged gorse-infested lands and engineer a links course that makes beholders feel they are in Scotland. Keiser provided the financial backing, but the credit for the vision of what could be … well, not even the golf baron would deny who gets full recognition there. That belongs to the late Shorty Dow.
Warren "Shorty" Dow was the self-appointed mayor, governor and sheriff of the untamed land that is now the glorious Bandon Dunes Golf Resort. (Those titles transferred after the golf vision was realized.)
In the early 1990s, Keiser sought land to build another course to add to his golf resort portfolio. In January 1991, he arrived in Bandon and met up with Shorty and his wife, Charlotte. The Dows were longtime caretakers of the land, employed by at least two previous owners who had planned golf courses of their own.
The tour was designed to show Keiser the various scenes and features that would benefit a nice course. The last stop was golden.
Shorty passed away Nov. 8, 2015. A commemorative plaque marks the spot where he sold Keiser on the dream course. This spot, high on Back Ridge, showed a panoramic view of untamed spiny gorse, shore pines and forests dotted with spruce and cedar trees. In the distance, beach grass blew in the wind along the rolling sand dunes. Beyond that, the mighty blue Pacific Ocean.
Keiser knew then "he'd found a site that matched his capacity for wonder," according to a Bandon Dunes post commemorating Shorty. In a video made during the commemoration in May, Keiser talked about the tour and his desire to buy the property.
Shorty, Keiser said, laid out his terms. "You know, we've been here a long time," he told Keiser, "and we've worked for two different owners and both of the owners were going to build a golf course, and as you can see, none of them built a golf course.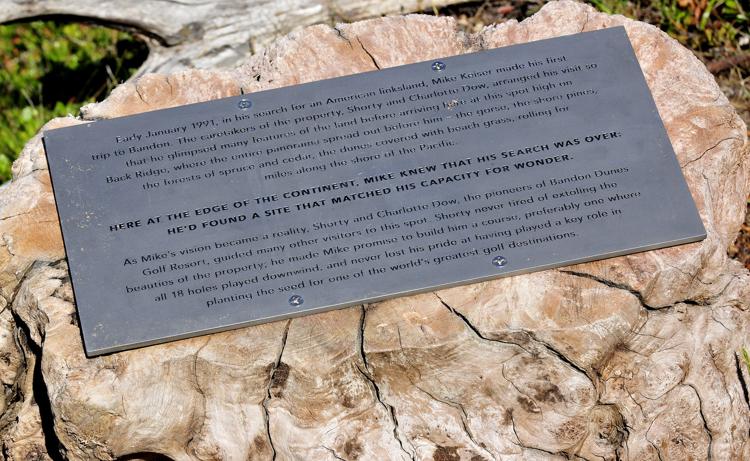 "Now, I'm not expecting you to do it right away, but I'm not getting any younger and I sure would appreciate you building a golf course sooner rather than later. And furthermore," Shorty told him, "the kind of golf course I'd like would be 18 holes. Downwind."
That spot became the 14th tee of the Bandon Trails course.
"I felt that Shorty and Charlotte were my partners here," Keiser said.
Economic vision
The resort offers five different courses, each with a distinctive feel and play. And thousands of golfers each year pay well for the spectacular ocean views, lush forests and the quite, natural atmosphere.
Rates range from $85 to $301 a round, depending on the season; the second game of the day is half price. Guests spent nearly $54 million at the resort in 2014, on golf, lodging and other services. That's an average of $561 per golfer per day.
At first glance, the resort has little impact on local communities. Golfers come to play golf, not hit local shops, hotels or restaurants.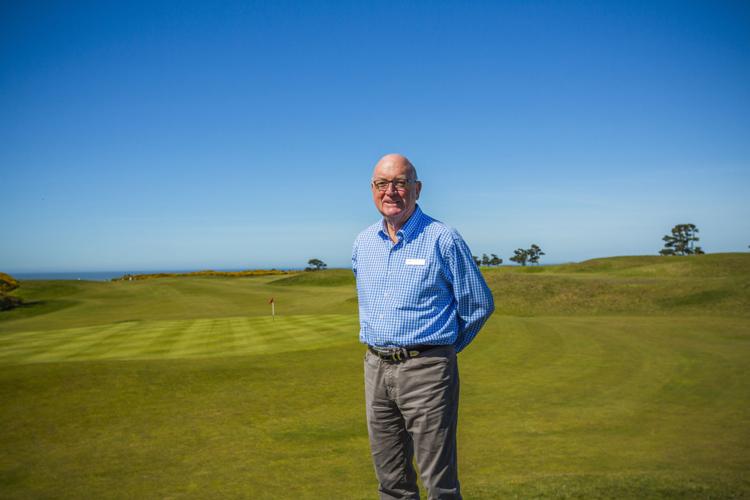 "Our customers are not tourists," said Hank Hickox, general manager and vice president of KemperSports, which oversees the resort's operations. "They focus on golf. They come from all the U.S. and the world to find golf courses. They're not here to shop, maybe they'll go off to have a meal. But they're here to play, have dinner and sleep."
In fact, many wondered if the resort affected the local economy at all. Or whether some Chicago businessman was the only benefactor of all those visitors.
In 2010, resort officials commissioned the University of Oregon's Lundquist College of Business to study its effects on the local economy. A follow-up report released November 2015.
The 2010 report said that the resort, referred to as BDGR, serves as a "key catalyst in the region's ambitions to strengthen its tourism economy to offset reductions in the forestry and fishing industries."
The resort impacts Coos County through jobs, direct and induced tax support, and spending on locally supplied goods and services, the report noted. The report also reviewed the resort's philanthropic and community development work.
"As we began to learn about the BDGR's various community grant and scholarship programs, environmental stewardship initiatives and collaborative economic development efforts, it was easier to make the case BDGR was emerging as a key catalyst and good business citizen for the South Coast," the report said.
Business at Bandon Dunes resort has increased. Rounds of golf are up 64 percent since 2010, according to the University of Oregon report. In 2014, the total rounds played reached nearly 147,000, an increase of 64 percent compared to 2010.
Golfers are playing more, and are staying longer; the average stay has grown from 2.4 days to 2.94 days. Residents from California, Oregon, Washington, Texas and Illinois are the top spenders. Oregonians also tend to inhabit the resort during the off season, racing to the course during breaks between winter storms.
This growth comes at a time when overall golfing participation in the United States has declined four of the last five years, the report noted.
The Bandon Dunes resort is the top employer in the county, topping second highest employer Bay Area Hospital. In terms of payroll, resort employees earned $16.7 million, an increase of 60 percent compared to 2010.
A notable change, however, is that the resort is shifting its employee base from mostly part-time workers to more full-time employees, who have full benefits. Less than 20 percent of workers are part-time. In early June, the resort employed 543 workers; of those, 449 were full time. This is in addition to about 300 caddies, who are independent contractors.
The average compensation package is $33,351 a year, 5 percent more than the average wage in Coos County, according to Oregon 2014 Employment and Payroll Report.
"There are no minimum wage jobs here," Hickox said. "An example: The servers keep their gratuity, which at this time of day (at about 2 p.m. on a weekday) averages about $10 an hour. Plus they get benefits — medical, dental and vision."
In terms of taxes, Bandon Dunes paid more than $741,000 in property taxes in 2015 — the highest taxpayer in the county, topping second-place PacifiCorp, which paid $472,000.
The resort pays an additional $160,000 in taxes through the statewide lodging tax. Coos County does not impose a transient occupancy tax on unincorporated areas in the county.
What's more, resort officials felt they simply weren't paying enough, so they decided to add an "assessment" to their fees and pay that money to the county.
"Mr. Keiser believes in leaving a legacy for his two sons to take over," Hickox said. "His views may be different than a normal business practitioner, but it's good for the community. We're the biggest generator for the overnight lodging tax. If our customers are charged this assessment, then other entities won't have to tax their customers."
Details are still being worked out, but Hickox said an independent board of 13 members will be set up to oversee the funding distribution. The money is designated to go toward the jail and county sheriff's offices. Coos, Douglas and Curry counties will benefit.
In 2014, the resort also spent nearly $7.9 million on goods and services with local vendors, up 74 percent compared to 2010. This does not include expenditures of less than $10,000.
Community partner
Bandon Dunes officials have worked with local business owners so the resort could contract for local services such as laundry, transportation and various supplies.
They contract with Raindance Laundry to wash sheets and towels and the like, and with Face Rock Creamery to provide cheese for the restaurants.
"We very much want to serve local products," Hickox said. "We'd serve local grass-fed beef if we had a USDA inspection plant here, which we're working on."
The resort also works to be a partner within the community, even if the product or service doesn't seem to directly benefit the resort's bottom line.
"Through job creation and tax contributions alone, BDGR emerges as a key champion of the South Coast's current and future economic growth," according to the University of Oregon report. "With that long-term vision in mind, BDGR has also engaged in what appears to be an authentic and mission-driven effort to support the region well beyond job and tax growth through a series of comprehensive community engagement initiatives."
The resort's community support is done through the Oregon Community Fund and through the Wild Rivers Coast Alliance.
Oregon Community Fund
In 2014, the fund paid $410,500 to 53 organizations, a budget that has been fairly steady since 2009, according to the university report. Grants support initiatives to help children and families, civic engagement, arts and culture, economic vitality, and education.
Contributions include a five-year, $500,000 commitment to the Bay Area Hospital; $100,000 to expand the nursing facility at the Southwestern Oregon Community College; $20,000 toward scholarships to the college's culinary school for the past two years.
"We've got 900 people working here," Hickox said. "To have these facilities available to our team members is an advantage to them and to the community. We have common goals."
In addition, the resort has also contributed an average of $200,000 of in-kind donations over the years. This includes waiving green fees, room nights and other credits to help with fundraising for community groups.
Resort officials also worked with United Airlines to provide seasonal direct flights from Denver, Colo., to North Bend's Southwest Oregon Regional Airport. The resort pledged more than $900,000 to support this route.
Wild Rivers Coast Alliance
In 2015, Wild Rivers Coast Alliance distributed nearly $625,000 to various projects and efforts along the South Coast. The nonprofit has distributed nearly $2.2 million in grants since its inception in 2011.
In an unusual business decision, Bandon Dunes founder Keiser offered all the proceeds from one of his courses, the Bandon Preserve, to fund the grants. The resort pays for the WRCA's facilities, staffing and other expenses.
The nonprofit's mission is to fund community projects along the South Coast, notably in conservation, community, economy.
WRCA has support projects such as a 61-mile scenic bikeway in Port Orford, a Gorse Action Group to mitigate the pervasiveness of this invasive species, and the Wild Rivers Land Trust, which works to protect the area's natural landscapes.
Some results, according to the University of Oregon report: 29 stream miles restored and enhanced; 24 direct jobs supported by grants; and nearly $753,000 raised in matching funds.
"This will grow independent of us," Hickox said. "This much of a nucleus, other funding sources will join you, like the Ford Family Foundation and others are already matching these funds."
Shorty's vision realized
Shorty Dow wanted a golf course on the lands he oversaw for others. As he drove the businessman/golf baron Mike Keiser, one wonders if even Shorty could have foreseen what was to come.
The drive from U.S. Highway 101 to the Bandon Dunes lodge and courses is a scenic, winding, tree-lined road. After several miles, the trees give way to open fields, dotted with flags to mark the greens. The lodge, restaurants, bridges and footpaths are all designed to blend in and accommodate the surrounding environment and landscapes.
The Bandon Dunes Golf Resort put Bandon on the map for golfers worldwide, and helped the community in countless ways.
And with the sand, the surf and the outstanding golf, Shorty Dow's vision has come true. There are well over 18 holes and, at one time of year or another, they are all downwind.