NORTH BEND — A suspect has been apprehended in the beating of a man, who was found covered in blood and walking down Broadway Avenue in North Bend on Thursday afternoon. 
According to a press release from Coos County District Attorney R. Paul Frasier, the 30-year-old victim is identified as Mark Eugene Hendrix of Millington. Police have arrested Jacob Daniel Evans, 27, also known as Davey Yocum, of North Bend. A warrant had been issued for Evans on charges of attempted murder, assault in the first degree and two counts robbery in the first degree. Evans was found in a shed near the crime scene.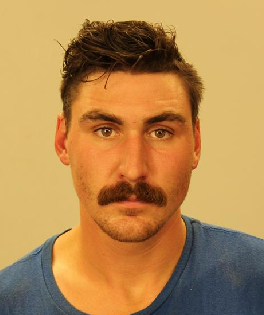 About 4 p.m. Thursday, North Bend police received a 911 call indicating that an adult male was walking on a sidewalk along Broadway Avenue near the intersection of 14th Street in North Bend and was covered in blood.
Police and emergency officials responded and transported Hendrix to Bay Area Hospital. Medical officials at Bay Area Hospital determined Hendrix sustained a skull fracture, a broken eye orbit and a broken nose. The skull fracture caused significant brain injury, according to the press release and Hendrix was air lifted to Oregon Health Sciences University. His injuries appear to have been the result of an assault involving some sort of a blunt object being used to strike Hendrix on the head.
The Coos County Major Crime Team was activated and officers from Coos Bay Police, Coquille Police, Coquille Tribal Police, Oregon State Police, Coos County Community Corrections, SCINT, Coos County Community Corrections, the Coos County Medical Examiner's Office and the District Attorney's Office responded.
"We believe that the assault of Mr. Hendrix occurred at 2451 Broadway Avenue in North Bend," the release stated. "A search warrant has been issued authorizing a search of that house which is being carried out this morning." The residence is approximately one-half of a block from where Mr. Hendrix was found yesterday."
The release said Hendrix remains in "very critical" condition.
The police are currently interviewing or locating potential witnesses to this incident. 
Anyone who has information about this assault is asked to contact the North Bend Police Department.