COOS BAY — Windy conditions swept through downtown Coos Bay as families and science enthusiasts gathered around the boardwalk to participate in the Celebration of Oregon Science's (COOS) second annual Science Fair and March. Advocates from around the county held on tightly to their signs as they began their march downtown in support of science education and awareness.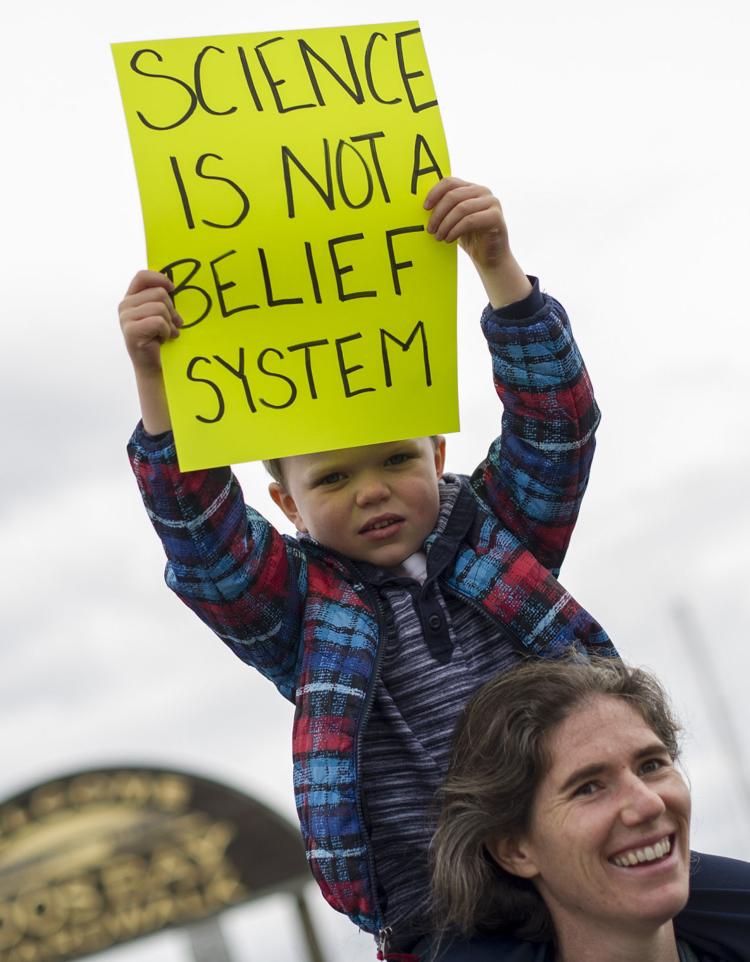 COOS is among hundreds of organizations throughout the United States this past weekend, joining in for the national "March for Science" rallies and events. The march, which began on Earth Day 2017 in Washington D.C., was created as a way to promote the importance of science and its role in our society, in reaction to the new presidential administration.
Todd Buchholz, a COOS member and event organizer, said the goal of Saturday's event was to reach out to the community about the significance of science education and programs.
"Lately we've been disassociating ourselves from the scientific world around us, so I think it's very important, particularly with kids, to get inquisitive and start thinking critically about science," said Buchholz.
Attendees kicked off the event with the march, which circled around downtown Coos Bay and returned back to the boardwalk for the fair. Marchers Beth, Shawn and their 6-year old daughter, Tzipora were among the first to arrive with their signs ready.
"We're out here to stand up for science," said Beth. "We believe in climate change and we want to help and do the right thing."
Beth said her hand-painted sign expressed her concern with the environment by stressing there is no plan B and no other planet to go to, if conditions were to worsen.
A few of the fair's displays and information booths included those from the Southwestern Oregon Community College's Physics Department, the Oregon Shores Conservation Coalition and the Coos Watershed Association.
"We want people to think about science and the potential career or educational routes they can take," said Buchholz.
The Oregon Institute of Marine Biology's Charleston Marine Life Center was among the booths at the fair bringing with them an assortment of marine animals to showcase. Visitors were able to view three different species of sea stars, a range of sponges and sea anomies and even observe through a microscope baby squids still encased in their egg sacks.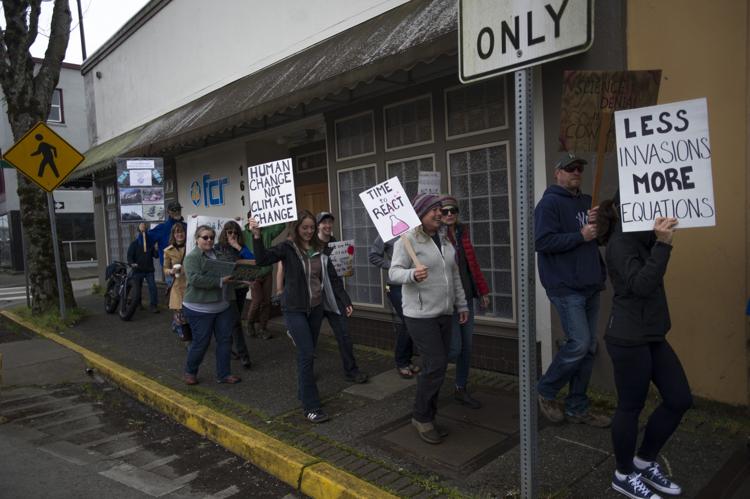 "We're just trying to share the marine life that's around us and the things that get us excited and that we're studying," said Reyn Yoshioka, a second-year PhD student at the University of Oregon.  
Seven-year-old Rhenner Stoker attended the event with her mom, Kristi, gave her seal of approval with a thumbs up as described the event and marine animals at the booth.
"It felt weird and squishy," said Rhenner. "It was cool!"
Buchholz said it was wonderful seeing everyone come out to the event and how great the turnout became.
"What strikes me the most about the Coos Bay area is people's willingness to come out and express their concern for their community, "said Buchholz. "It's fantastic to see."