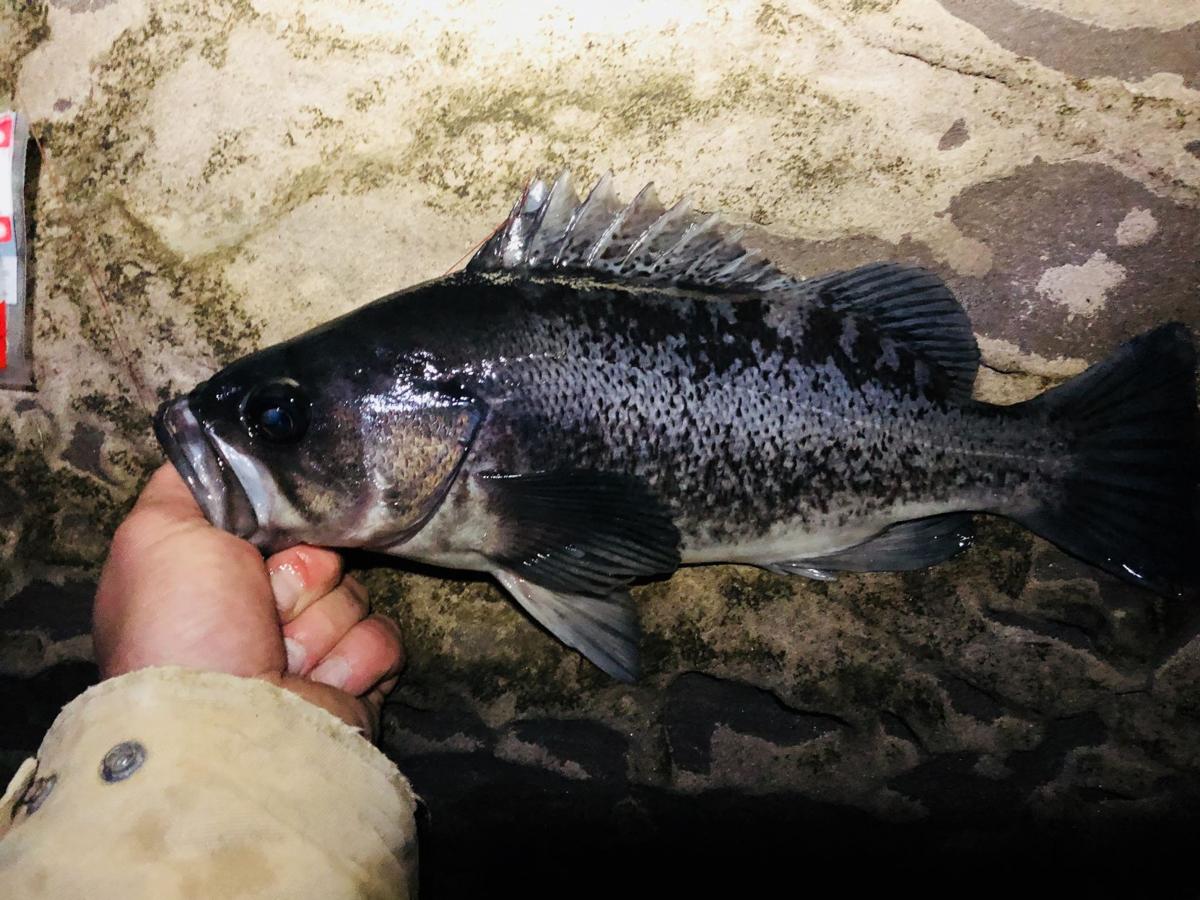 Sorry I missed y'all last week but with the holidays, sickness, and the re-opening of rockfish it's been downright crazy around here.
Crabbing in the bay and off the docks is slower than it has been for a while but many folks are still taking home crab, just not as many as in the past few months. Steelhead is picking up, it's not red hot but for the folks putting in the time, they are being rewarded and many of our pro-staff have had a few double digit days. Perch fishing is hot on the beaches just know that not every day is a limit out day. That's kind of how fishing always goes but I did just recently experienced an exception to that rule.
Our rockfish season reopened Jan. 1 at the stroke of midnight and Basin Tackle was out there to see it through. I had positioned myself on the North Jetty out of Charleston about 11:45 p.m. and sat patiently on the rocks waiting for that much anticipated moment when we would once again be allowed to engage in the pastime that so many of us love so much.
As the big and little hand struck midnight and the sky in the distance burned bright with phosphorus and potassium and the unmistakable sounds and of fireworks were echoing off the rocks I cast the first cast of the 2018 season. It only took about five seconds for that unmistakable and long since felt tug of a rockfish on my line, it was electric and I felt like a little kid all over again! I set the hook and started reeling in as fast as I could but I lost him almost as quickly as I hooked him. Wasting no time I pitched out my lure again and this time the strike was even faster and my hook-set was even harder. I wanted this fish bad and the idea of being the first angler in the state of Oregon to catch a rockfish this year was my motivation for being out on the cold slippery rocks at midnight.
My hookset was good and I started to bring in my quarry until my line was tangled, somewhere, or my reel was broken, somewhere. It was pitch black and I had no idea where the malfunction lay so I did what any self-respecting redneck would do and dropped my fishing pole, grabbed the line, and brought him in like a tuna on a two hundred pound hand-line, a super small tuna mind you. Thirty feet of "hand line" later I was holding the first rockfish of the 2018 season, a black rockfish weighing a solid quarter pound. I know, it wasn't much of a fish but it was the first and I rewarded him greatly by introducing him and four of his friends to butter and spices the next afternoon.
By about two in the morning I had caught and released well over one hundred rockfish, yeah, you heard that right. This was easily the best rockfish trip I have ever had and rivaled smallmouth fishing on the Umpqua in terms of quantity of fish. By night end, I had my first little tasty fish and four more in the three or so pound range in the ice chest and headed home. I'm still grinning from ear to ear.
The highly prolific black rockfish also is sometimes known as black bass; and while it starts off almost entirely black in its youth it will turn grey or mottled as it ages. Living amongst rock and other structure this fish will feed on almost anything it can get in its mouth and that makes it a pretty easy fish for anglers to harvest.
I personally love when Dungeness crab spawn (itty bitty baby crab) are in its pelagic state and floats the ocean currents near surface. Why? Because this is the time when these rockfish leave their rocks and swim up to gorge on these baby crab.
Rockfish will splash and chase these larvae in a feeding frenzy that simply has to be seen and is probably some of the most fun fishing you'll ever experience. Using light gear like trout or bass poles and small spinners, spoons, or plastics for non-stop fishing fun I often compare it to bass fishing a lake, a really BIG lake.
These rockfish can live to about 50 years old and grow to a maximum of around 24-inches in length although we rarely see specimens that large. Black rockfish will start having families when they are six to eight years old and are a viviparous species. This means they give birth to live intact babies and are not egg layers. Birthing usually takes place January to May and as they grow they will live in groups or schools of other rockfish, sometimes with rockfish of other species.
Get out there and enjoy our ocean's bounty folks, it's fishing time again!
And if you don't believe my fishing tale I posted it live on our Facebook site at Basin Tackle Charleston. I apologize in advance for my exuberance.
Rob Gensorek is the owner of Basin Tackle www.basintackle.com in the Charleston Marina and can be reached by phone at 541-888-FISH, by Facebook at Basin Tackle Charleston, or email at basin_tackle@yahoo.com. Robs fishing reports can be heard daily at 6:20 a.m. and 4:20 p.m. on KRSB Best Country 103 out of Roseburg and his Basin Tackle Outdoor Show can be heard Wednesdays at 3 p.m. and Saturdays at 6 a.m. at kwro.com. In addition to all this he sometimes actually gets out and catches a fish or two.