Giant Pacific Octopus are being seen more often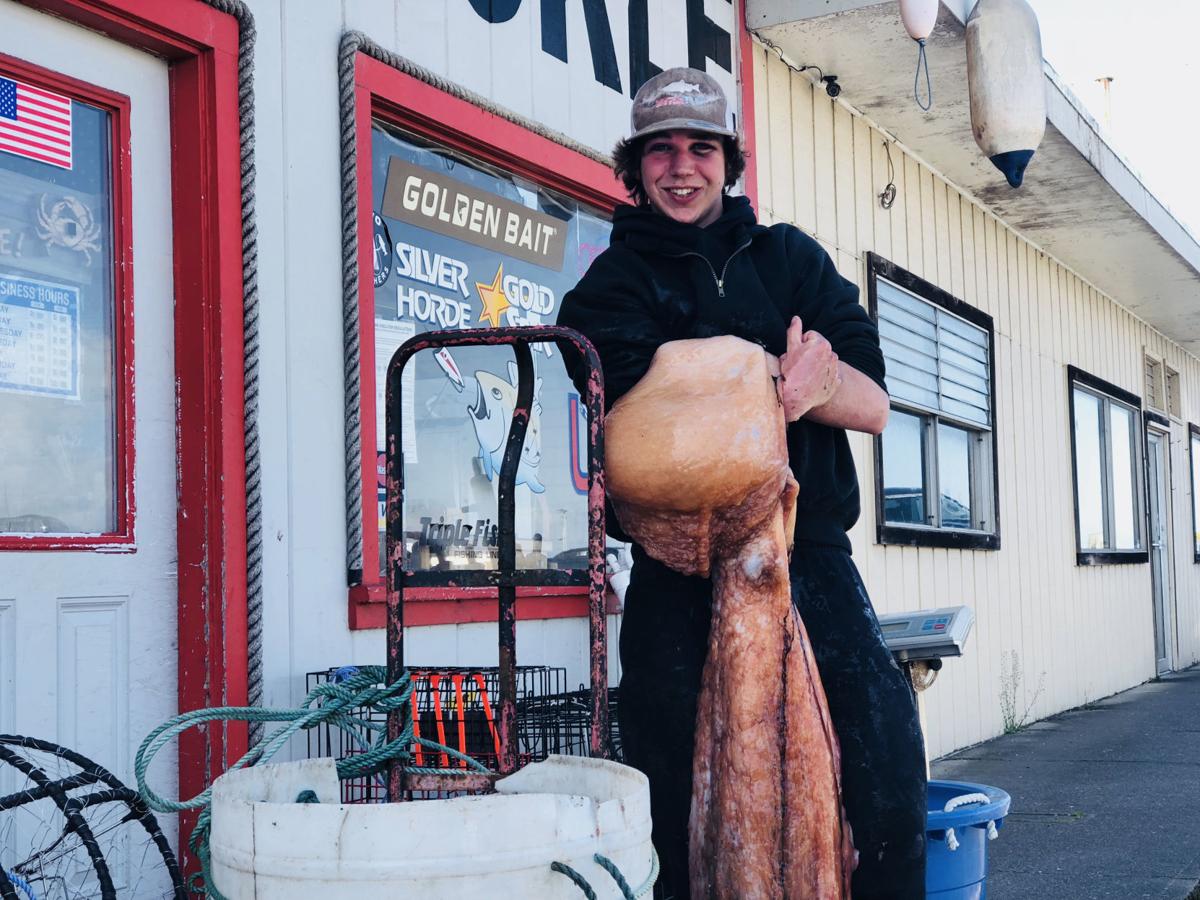 We've had a mixed bag of weather with good days and bad, but even the bad ones are pretty tolerable lately. On the days we can get into the ocean the rockfish and lingcod have been great. With limits of rockfish easily attained, we are finding ourselves throwing back tons of smaller ones as we are confident of larger tasty keepers each time we go out. Our grade off the reefs has been in the three-to-five-pound range. On my last trip, I found myself once again, fishing with Keifer in his boat which in itself is a fun time but adding to this the fact that HE DOESN'T EAT FISH means more for me to take home! We ran our underwater camera and the footage that we got is astounding, it provides an insight that we wouldn't otherwise have. An example of this is that at any given time there's pretty much at least one fish following your gear that never has any intention of actually taking your lure, sometimes there are several. The really cool part is that when a fish finally takes the bait figuratively and literally it is usually one from off-screen that comes out of nowhere at lightning speed in an attempt to steal from the fish "escorting" your lure. It's kind of a purse snatch and run kind of thing. In fact I think these fish are the hoodlums of the sea and we are doing a service to the underwater community by removing them from their society. In an effort to reduce crime among seafood, I propose we petition the ODFW to increase the rockfish limit back to seven fish. Heck let's make it 10, unless of course, you support crime.
Something else we are seeing a lot of lately is octopus, big ones, really big ones. Just yesterday we had a 69-pounder brought into our shop. The species we are seeing are the Giant Pacific Octopus. About four years ago, we saw a lot of smaller octopus everywhere and given that their lifespan is a scant two to five years this might explain the high incidence of larger ones this year. I'm guessing four years ago octopus had a great reproductive season and we are now seeing the mature ones from then.
Octopus are "cephalopods" which are defined as large predatory mollusks, squid also are cephalopods but not near as cool or creepy.
In our area we have the Red Octopus and the Giant Pacific Octopus which is the largest octopus species in the world. When they are young the two species can only be told apart by three little bumps below the eye of the red octopus. At full maturity the Red octopus weighs in at 1.5 pounds at the most while the Giant Pacific weighs in at about 90 pounds. This means every large octopus that has been caught over about a pound and a half is of the Giant Pacific variety.
These animals are amazing to interact with and throw back, save for lingcod bait, or smoke and eat. I have smoked some of them in the back of the shop lately and they are turning out amazingly well, if you want tips on preparing them swing by and I'll share some knowledge with ya! If you can get over the psychological impact of eating a tentacle from a 1950's horror movie, it's definitely worth doing and here in Oregon we are allowed to keep one octopus per day per angler.
A few years ago, the Fishermen's Wharf seafood market here in the Charleston Marina had two octopus crawl up from the water into their shop (a floating seafood market) and skit along the floor searching for food; you know, because one wild octopus crawling into your workplace isn't creepy enough.
Octopus live in rocky areas and love to make a home in a small pocket or cave and feed on clams, snails, small crab and fish.
Some interesting facts about octopus are that they have 3 hearts and up to 200 suckers on each arm. The Red octopus can and will bite you given the chance mostly because they have "little octopus syndrome" and want to show you who's boss. They also are sometimes belligerent at parties.
There's a lot more to these amazing creatures than space allows me to write but I hope this sheds a little light on another one of our amazing species in our amazing place we call home.
Oh, and one more thing, the article last week was a total lie and if you actually put your fish-hooks into a potato you should hang your head in shame. April Fools y'all; I hope to see you out there.
Rob Gensorek is the owner of Basin Tackle www.basintackle.com in the Charleston Marina and can be reached by phone at 541-888-FISH, by Facebook at Basin Tackle Charleston, or email at basin_tackle@yahoo.com. Robs fishing reports can be heard daily at 6:20 a.m. and 4:20 p.m. on KRSB Best Country 103 out of Roseburg and his Basin Tackle Outdoor Show can be heard Wednesdays at 3 p.m. and Saturdays at 6 a.m. at kwro.com. In addition to all this he sometimes actually gets out and catches a fish or two.