Blue mud shrimp can be found in mud flats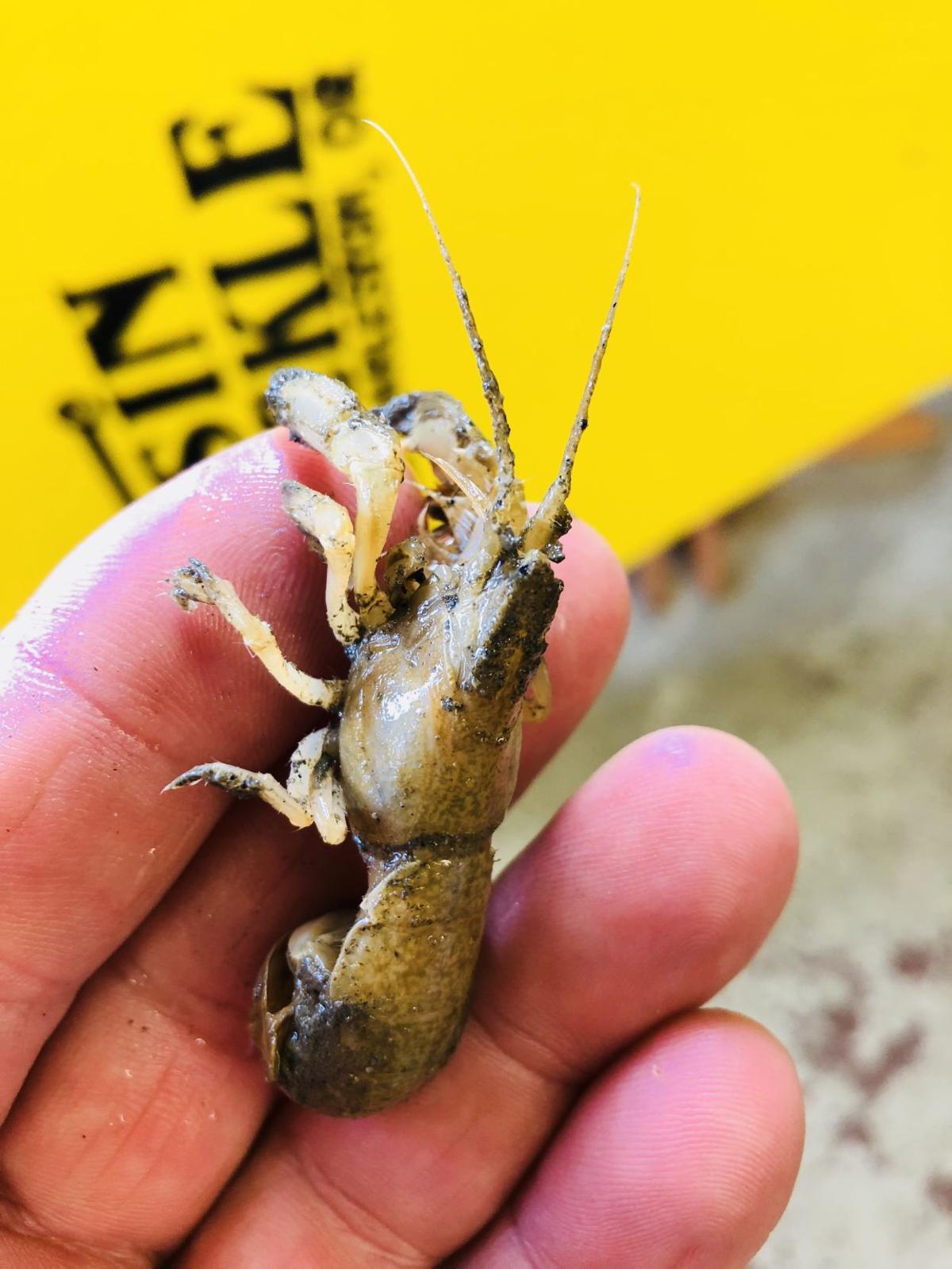 Am I crazy or was I just recently talking about the nice sunny warm weather we were having? As of late my life has been filled with rain, wind, and snow, lots of snow. I am still on the Sportsmen's tour and this coming weekend in Anderson, Calif., should be my last one for a while. This is kind of bittersweet because while I need to get back to my daily Basin Tackle duties and find a couple days to rest and relax I am having an amazing time meeting some of you for the first time and re-acquainting with others. In addition to this I am getting to know some of the best guides in our area, folks like Norma Evans, Jody Smith, and Clarence Cole.
As far as fishing goes the ocean has been mostly off limits with man-eating wind and waves the order of the day. Surf-perch remains awesome when the waves allow one to do so safely and fishing and crabbing in the bay remain good to very good. Very soon the weather will change and perch will run into the bay to bear their young, the wind and waves will calm some, and the 2018 fishing season will be in full force. In the meantime sharpen your hooks, retie your gear and get ready!
Once the season hits in full force we start to sell a lot of sandshrimp for bait, we sell Styrofoam containers of these critters by the dozen but some folks choose to go out and get their own in our mud flats. Recently one such customer brought in a couple sandshrimp that didn't look quite right. This customer asked, "What the heck are these?" My first though was crawfish but I know they came from our mudflats so there's no way they were craws.
A quick Google search showed that what we were looking at were blue mud shrimp. These critters also are sometimes known as just "mud shrimp," or "marine crawfish." Seeing as how crawfish was included in the listing I'm taking a half point for identification even though I ultimately had to Google it.
The blue mud shrimp ranges from Alaska to about Morro Bay in California and is becoming less and less common in our mud flats due to a parasite that attaches itself to the shrimp and prevents reproduction. I am unsure exactly how this clam inhibits reproduction but next time you head out to a social function stick a giant clam to your side and see if you get ANY phone numbers from the opposite sex. I don't think you will.
The blue mud shrimp are pretty particular about where they live and require just the right habitat found only in marine estuaries. This typically is a muddier region than is inhabited by the sand-shrimp we sell in the shop. This sometimes creates a problem because those same spots are often used for oyster beds. Back in the day before we knew better chemicals were deployed to kill these shrimp. It turns out that as the shrimp dig the burrows they inhabit, and reproduce in, they kick up a lot of microscopic silt that adversely affects the growth of the oysters, hence the poisoning. But not to worry because this practice has been stopped, mostly due to customer outcry.
These critters feed on organic detritus they collect with their hairy legs (possibly equally as offensive as a giant attached clam and another reason reproduction is limited) and grow to several inches in length in their Y shaped burrows. We don't see too many of them around here and if you pump one up and want to throw it back it turns out that it probably can't find its way home or dig a new one once it's full grown. Tough call but I'm probably calling it bait.
Whether you are harassing a defenseless species plagued with almost insurmountable odds or having fun using them to catch tasty fish I hope to see you out there!
Rob Gensorek is the owner of Basin Tackle www.basintackle.com in the Charleston Marina and can be reached by phone at 541-888-FISH, by Facebook at Basin Tackle Charleston, or email at basin_tackle@yahoo.com. Robs fishing reports can be heard daily at 6:20 a.m. and 4:20 p.m. on KRSB Best Country 103 out of Roseburg and his Basin Tackle Outdoor Show can be heard Wednesdays at 3 p.m. and Saturdays at 6 a.m. at kwro.com. In addition to all this he sometimes actually gets out and catches a fish or two.