COOS BAY — An opening art reception will be held for five new exhibits at Coos Art Musuem. The reception will be 5-7 p.m. Friday, Dec. 15, at the museum featuring: Birds of The Elliott fly into CAM; High Fiber Diet exhibitions; Viewing Organically: Jean Kyle and The Nature of the Gourd: Sunny Kudo; Coos Art Museum's Staff Art Show and Wood Art. Two shows will end Feb. 10 and the others a week later Feb. 17.
Birds of The Elliott fly into CAM! Regional Artists bring the beauty of Elliott State Forest bird life to this exhibit, a collaboration of 15 regional artists who have created life-like sculptures out of textiles and needle-felt art. Each species of bird represented is a native bird of Elliott State Forest.
Organized by Portland artist Suzanne Moulton "Birds of the Elliott" is part of "Project Bird Baby Nest." Project Bird Baby Nest aims to keep the importance of Public Lands and protecting wildlife fresh in the minds of kids, families and communities with fun and engaging events and regionally made products that support wildlife awareness. As an Oregon local wildlife and toy artist, Suzanne Moulton fell in love with Elliott State Forest and started Project Bird Baby Nest to celebrate the forest's many natural treasures.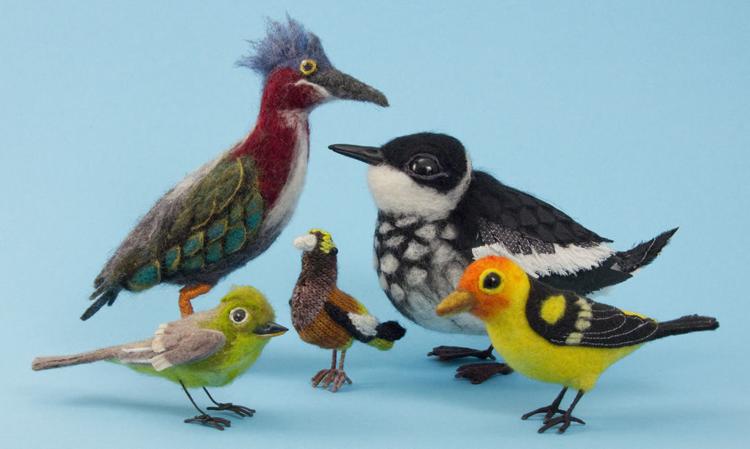 Suzanne Moulton's art has been displayed in the National Horse Racing Museum, The Hyde Collection, Kansas City Art Institute's Traveling Collection, National Society of Illustrators New York, and The Portland Art Center. Additionally, Moulton has professionally designed rod puppets, theatrical sets, furniture and product design. She also is an experienced stop motion puppet artist, and has worked on films such as Frankenweenie, ParaNorman and Coraline.
Dual exhibitions of fiber art by the group, "High Fiber Diet," brought together Heat Wave and It's Not Easy Being Green into one, and both were separate recent fiber art competitions. "High Fiber Diet" is a group of more than thirty artists located in southwestern Washington and western Oregon who choose to work with fiber to express their interpretation of the world and themselves.
Each portion is organized around a particular color that must appear within the design of the fiber art piece. For Heat Wave it is orange - Orange is the color of heat: hot passion, hot jazz, desert heat, tropical heat, the warmth of Mediterranean stone walls or bright flowers. We are basking in the glow. For It's Not Easy Being Green it is green - A famous frog once sang "It's not easy being green." Kermit's identity struggle reflects the challenges and choices we face every day. Jurors for Heat Wave are Wendy Huhn, Barbara Setsu Pickett and Marilyn Robert. The jurors for It's Not Easy Being Green are Pat Bognar, Trisha Hassler and Bonnie Meltzer.
The It's Not Easy Being Green exhibition has previously been shown at: La Conner Textile Museum in La Connor, Wash., World Forestry Center in Portland, Ore. and Latimer Quilt & Textile Center in Tillamook, Ore.
Viewing Organically: Jean Kyle and The Nature of the Gourd: Sunny Kudo dual exhibition by artists Jean Kyle and Sunny Kudo will be in the Mabel Hansen Gallery. Both artists were chosen for exhibition after tying for the "People's Choice" prize in the 2016 CAM Biennial. Jean Kyle of Coos Bay, produces nature inspired watercolors and Sandy Kudo of Bandon, creates carved and painted gourds.
As stated by Kudo, "I picked up my first gourd about 4 years ago and after painting and carving the gourd, the end results that emerge are always a surprise and delight for me. The beauty of nature is my inspiration and combining that with the uniqueness of each gourd has been my main focus."
According to Kyle, "I prefer to work intuitively. Most of my pieces are watercolor 'pours.' I enjoy the creative challenge of bringing a piece into focus after finding the suggestion of a subject, an emotion or a mood in a 'pour.' By letting the paint 'do its own thing' it adds depth and an organic quality to my work. For me it is the perfect personal expression of freedom." 
The Coos Art Museum Staff Art Show exhibition will feature art works created by the folks who make your art museum happen. So meet the artists and see the wide variety of works that they produce.
Among the works on display will be examples of: photography, stained glass, painting, mixed media, collage, woodblock printing, ceramics, and fiber art. The participating artists include: Ken Ayers, Betty Bangs, Steven Broocks, David Castleberry, Kevin Clarke, Archi Davenport, Liv Drahos, Stan Ferrell, Carol Hanlin, Genevieve Hartin, Josie Keating, Susan Lehman, Paula Reise, Dana Rieck, Pat Snyder, Sarita Southgate, Victoria Tierney, Beth Wegner, and Kathleen Zappelli.