NORTH BEND — "I don't know how many times I've driven past this place and didn't realize it was here."
Sports editor John Gunther's sentiments aren't new or unusual when it comes to talking about the Alder Smokehouse on Virginia Avenue in North Bend.
It's a fairly nondescript building, sitting on the south side of the street, about three blocks up from U.S. Highway 101. Just a maroon awning with white lettering. No big overhead sign, just a couple of smaller Alder Smokehouse white fluttering signs at either end of the building that say "open."
What waits inside though is anything but nondescript.
I've made my way through a good portion of the menu here and can honestly say I haven't been disappointed in anything.
I get asked a lot about where the best food is in town. I usually have to make people qualify what they are looking for. If it's a good sandwich, Alder Smokehouse is the place.
The only catch is that they are only open for lunch from 11 a.m. to 3 p.m. Tuesday through Friday.
There's also limited seating, so you see a lot of "regulars" calling in their orders and coming in to pick them up.
When John and I got there last Thursday, we were the second table to be filled. I told him, "Watch, there's two tables full now, by the time we leave, this place will be packed."
A steady stream of customers proved me right. Just about every seat in the house was full when we left.
I still can't believe that I hadn't brought John here after all this time. We've been doing this lunch series for more than a year now.
I told him last week, "I think I've taken, or sent, everyone here but you."
So we rectified that situation.
Being his first trip to Alder Smokehouse, he got to look over the entire menu and asked for a few suggestions.
I told him that I liked the Cue-Pit, the pulled pork sandwich with the coleslaw and that I really like the Thunderbird, which is similar to a classic bacon, lettuce and tomato with smoked turkey, cheddar cheese and chipotle aioli included (add the avocado).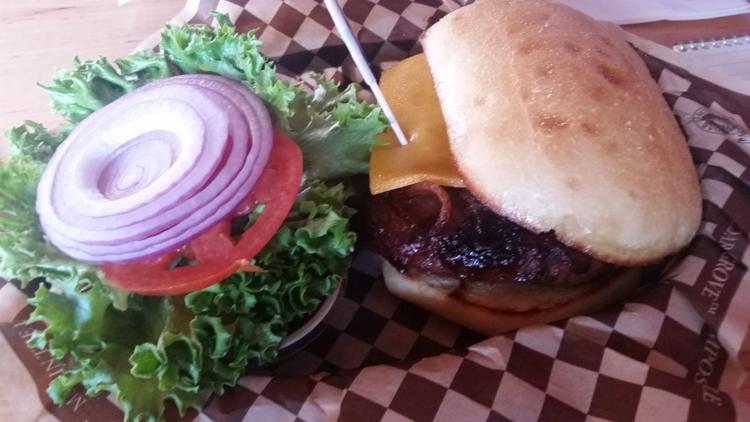 While standing there, we were informed that the Thursday special is the Lumberjack Burger. I figured I've tried the others, why not the burger. The Lumberjack is a half-pound fresh Angus patty, alder smoked with bacon and cheddar cheese and barbecue sauce on the side.
John ordered the Porkorito, which is pulled pork in a giant garlic herb wrap, topped with salsa, shredded cheese and coleslaw and chipotle aioli.
The meals come with chips and homemade salsa.
John thoroughly enjoyed his meal, and I was impressed with the Lumberjack. It may not surpass the Thunderbird as my favorite meal at Alder Smokehouse, but if I'm there again on a Thursday, I would order it again. The smoky flavor and that big patty on the ciabatta roll, were really good.
Before we left, I ordered Autumn a Thunderbird with avocado to go and took it to her at her office. I think it's her new favorite too.
While I love their sandwiches, they also do salads and plates, which include pulled pork, tri-tip, chicken breast and turkey. And there's a Grab & Go section of the menu that has pulled pork, tri-tip, pork loin and turkey breast in larger quantities.
I think this is one of those places worth finding.