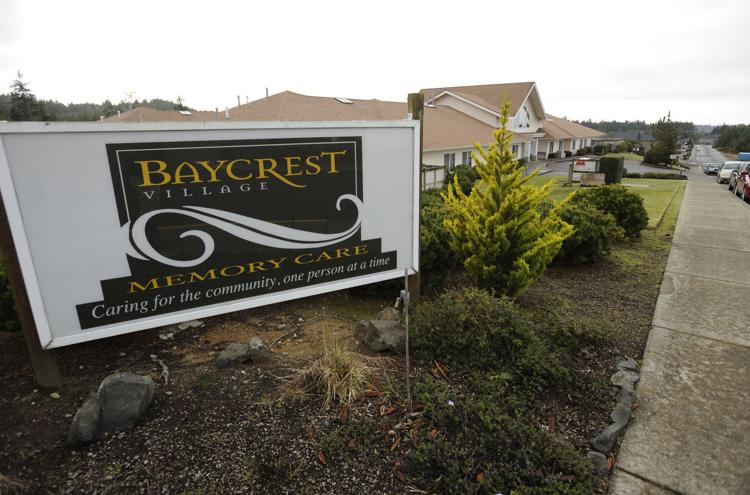 COOS BAY – "Allegation: failed to assure timely medical treatment.
Wrongdoing is found to be: Substantiated.
Allegation of abuse: Yes."
These are findings from an investigation document run by the Department of Human Services on Baycrest Memory Care. The complaint of poor medical treatment came in October of 2017 but the investigation closed on November 21, 2017.
It is the most recent investigation file The World obtained through a Freedom of Information Act request. The names of the complainants are kept confidential in accordance with state law.
"The facility feels like a storm is coming," stated the anonymous complainant during a transcribed interview with a DHS investigator. "Things are changing but not for the better. We took a chance after the last restriction of admissions. We were the first people in once it was lifted. We had been happy with care until now."
The complainant is referring to when DHS found out that something wasn't right at Baycrest during an inspection in 2015, back when the allegations started. After the department's licensing team walked through the facility, the facility was issued "quite a few citations," Ashley Carson Cottingham, the director of the Aging and People with Disabilities program with DHS, said in a previous interview.
It was after those citations that DHS threw down conditions on Baycrest's license.
"It would restrict admission during that time so they can correct the problem without new residents moving in," Cottingham said.
Those restrictions were lifted again in 2016 after the facility improved its care.
Allegations of abuse started rolling back in during April of 2017.
Open Records
Though these investigation files are technically public record, as in people can sit supervised in a DHS office reading them, no copies can be made and no photos can be taken. In order to obtain these documents to give to the public as evidence of these Baycrest Memory Care abuse allegations, The World filed a Freedom of Information Act request at the beginning of January.
DHS filled that request promptly with all investigation files on Baycrest Memory Care since 2015.
These are just the proven abuse files of 2017. There is a total of 10 between February and November.
DHS is not finished with all 2017 investigations, which The World will file another FOIA to receive.
In the case of the most recently finished 2017 investigation, it began when the complainant, who was not named in the file, noticed that one of the residents had brown urine. They passed that information onto an employee, referred to only as Witness No. 1, but nothing was done.
The resident went six days before being given antibiotics.
"The facility's failure to provide timely and appropriate care and services is a violation of resident rights, is considered neglect of care and constitutes abuse," the investigator wrote in the description of incident findings.
During the complainant's interview, it was noted that several of the residents' doctor appointments had to be rescheduled because no labs were being done at the facility. When they asked why they weren't being done, staff replied, "I'm new, no one passed on that information."
"(Complainant) was concerned that (resident) might be septic due to the length of time (resident) was symptomatic," the file read.
Because of this, the Complainant called the resident's physician to have them send the antibiotic to a local pharmacy.
It was the complainant who finally picked up the resident's medication and administered the first dose.
"Screaming Pain"
Another investigation also ended on November 21 of 2017. The severity level listed in the file reads as, "serious harm, death, imminent danger, or chronic regulatory compliance."
The investigation showed that one of the residents, referred to as Resident No. 3, was not given proper medication to treat constipation and went five days without a bowel movement.
This resulted in the resident being in "screaming pain" for two days.
"The facility's failure to appropriately administer Resident No. 3's bowel protocol caused prolonged and substantial pain and is considered neglect of care and constitutes abuse," the investigator concluded.
Because of this, DHS imposed a civil penalty against Bay Area Properties, LLC which owns the Baycrest Village location, a fine of $400.
"This civil penalty is based on the fact that this violation resulted in serious harm," the report read.
Sexual Abuse
In July last year, a resident diagnosed with poor memory and impulse control was seen with their hand down another resident's pants while the second resident was sleeping. The sleeping resident wasn't aware they were being touched.
Not only that, but facility staff had previously documented the first resident as touching staff and other residents on the buttocks in June.
"The facility's failure to provide an environment safe from inappropriate sexual contact is a violation of resident's rights, is considered neglect of care and constitutes abuse," the investigator concluded.
DHS imposed a civil penalty on Bay Area Properties for $300 "based upon the fact that this resulted in moderate harm."
However, this wasn't the only time that Baycrest Memory Care failed to protect its residents from inappropriate sexual contact. Not only had a caregiver been investigated for allegedly sexually abusing residents in 2015, as The World reported at the time, but then in May of 2017 DHS investigated another resident who had a history of inappropriately touching fellow residents. This resident is referred to as Resident No. 2 in the investigation files.
Then, Resident No. 1, was supposed to have a care plan in place for "sexual behaviors toward other residents."
But on May 2, 2017, residents No. 1 and No. 2 were spotted touching each other sexually.
When the DHS investigator interviewed Resident No. 1, they made the following notes:
"(Resident 1) was in his/her room and stated 'I've got no memory. (Resident 1) states he/she is doing better now. (Resident 1) does not know anything about what happened last night."
When the investigator sat down with Resident No. 2, they also didn't seem to remember what happened.
"The facility failed to address Resident No. 2's sexual behaviors in his/her care plan and failed to follow Resident No. 1's care plan," the file read. This violated their rights and constituted as neglect and abuse.
Neglect of Care
The facility also had cases where resident care plans were updated but new staff wasn't notified. On Aug. 17, 2017, another resident referred to as Resident No. 1 fell when they tried to sit in a recliner and hit their head.
Another resident had unwitnessed falls between February and April, 2017, and found "goose eggs" on their head. On April 5, facility staff failed to properly report it to the medication technician.
From a file closed in November, another resident fell and injured their head while walking unassisted to the dining area, suffering injuries and bruising to their face.
For 2016 and part of 2017, Baycrest Memory Care still owes $44,400 in unpaid civil penalties.
Oregon state Rep. Caddy McKeown issued a press release after Baycrest Memory Care announced they would close in March of 2018 when DHS gave them an intent to revoke their license.
"Our seniors are some of our most vulnerable citizens and they deserve the best care we can possibly provide them," she said in the release. "We must do better than this."
This article is part of a series on the Baycrest Memory Care investigation files. More to follow.