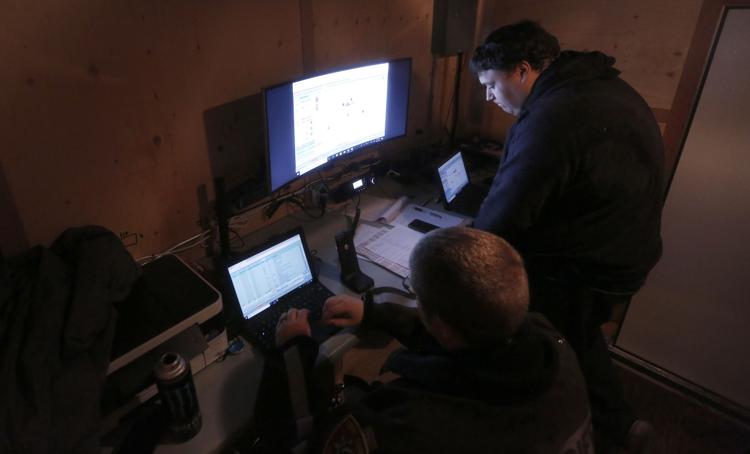 COOS COUNTY — When people think of dispatchers, it's often just a voice on the other end of the phone, but at the Coos County Sheriff's Office there are a select few known as tactical dispatchers who get their hands dirty. These are the ones who ride into live operations alongside the Emergency Response Team, otherwise known as the county's SWAT team.
"A tactical dispatcher does communications at a scene of an incident, a search warrant, a protest, or a live operation," said incident dispatcher Andrew Otton. "What we do is monitor tactical radio chatter and be the on-site communications in case we need to get ahold of an ambulance."
Otton and incident dispatcher Brian Kent, two of the five tactical dispatchers with the department, were present during the ERT's live operation of a Mexican cartel marijuana grow two weeks ago. Because the tactical dispatch team is still new, since August 2016, they use missions like that to evaluate how to better improve the technology being used.
"During that operation, it was raining and the trailer where we base our operations isn't done yet," Otton said. "Not only that, but here in dispatch we record people. Out there, there was nothing to record with so there's no way to listen back or double check what we heard and we're not going to stop what the guys are doing for five minutes to figure out what they said."
Since that mission, the technical dispatchers are thinking of adding in handheld recorders to take with them on missions to help them verify whether or not they hear radio communications correctly.
"Because it's still new, operations are a work in progress," said technical dispatcher Casie Stone. "We're the only ones using it, so we don't have experience in this. We're piecing together what works out for all of us when we go out."
The tactical dispatch team came together in 2016 after a few dispatchers with the department expressed interest in it.
"We hosted the training in 2016 because, at that time, there weren't a lot of (tactical dispatchers) in Oregon," Otton said. "It's a newer idea that is still growing in law enforcement to have this kind of a team."
Team coordinator Emma Owens pointed out that having the numbers to support this project is one of the big barriers that agencies face.
"It's more about being spread out evenly across the shifts so we have an adequate number of people to respond to an emergency, to go out on these missions," Kent said.
Right now, the department has 12 dispatchers, including supervisors, which allows these five the ability to do training and respond to emergencies.
Other agencies across the state participated in the 2016 training, including dispatchers from Coos Bay, North Bend, Douglas County and even one from eastern Oregon.
"What's cool about this is we get to be on scene at the same time as these guys and see what you do be applied in real time," Otton said. "It's nice to get to know the team more because when we're back at our office, some of these guys never make it in to see us because they're busy, so it's hard to know who you're dispatching for. We talk on the phone but we never really get to know who they are, so doing this is also a team-building exercise at the same time."
For Kent, being a tactical dispatcher also means they can take their skills a step further.
"Doing this means we are able to assist them in a way that takes our skills here and applies them there," he said. "I like that we can take our knowledge and extend it to help the team."
Not only that, but honing the skills of a tactical dispatcher enriches the dispatch center as a whole. Owens highlighted the fact that depending on the incident, "we may be operating on primary channels, which floods the dispatch center. That means we can respond to the office and be devoted to one channel, so it's a benefit to normal operations too."
As the training and missions continue, Otton sees the team becoming utilized in more major crimes in the future.
"We don't fit just one little piece, but we could fit in anywhere whenever they feel the need for a dispatcher on scene or a need for communication assistance," he said.
However, it's not just the relationship building between them and the officers.
"Everybody here has had their heart sink at a call when they heard something and it's so far away and we feel helpless," Otton said. "Something bad happened and we're just waiting to hear someone say something on the radio while we're trying to get a person there. It's nice that we can be more helpful on a scene instead of just a voice 50 miles away."