Majority of its student population are there on inter-district transfer agreements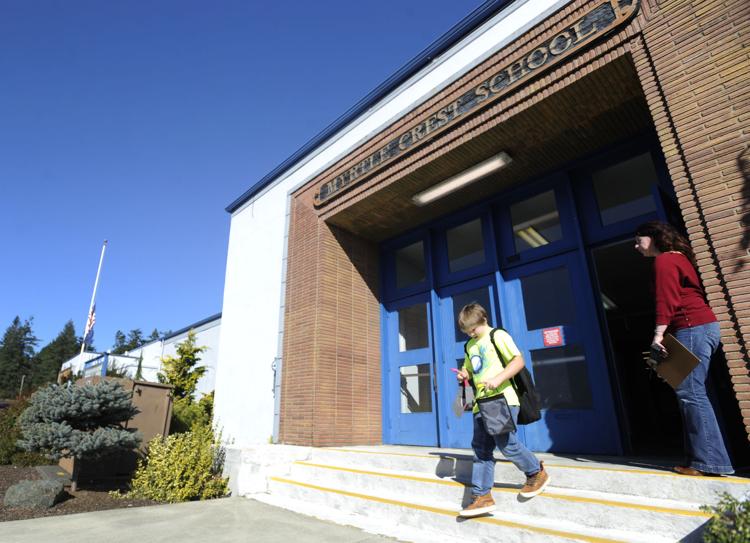 COQUILLE – More and more parents are opting for alternative education.
Students from across Coos County are flocking to the Coquille School District, in particular its Winter Lakes School that has a diverse educating system for advanced learners and others that need a little extra push.
What stands out are the numbers.
The inter-district transfer agreements, which allows a student to switch districts, are growing every year. For the Coquille School District this year, there are 95 students from Myrtle Point, 54 from Coos Bay, and 31 from North Bend.
In total, there are 225 inter-district transfer agreements for the Coquille School District this year.
Of those, 147 are for Winter Lakes.
"When we established, none of us imagined this exact scenario we're in," said Winter Lakes Principal Tony Jones. "When we did our formative meetings to get our legs established, our early name was Winter Lakes Regional Learning Center, but that's what we've evolved into."
Seven years ago when Winter Lakes became a school, a brainchild of the Coquille School District Superintendent Tim Sweeney, it was a cooperative between Coquille, Bandon and Myrtle Point school districts. This allowed superintendents and principals to refer students to Winter Lakes if they needed an alternative school setting.
"That first year we had about 50 students in total and adjusted our curriculum to give students more time to complete assignments, but overall we were still very much a brick and mortar school that kids had to attend every day," Jones said.
Also when it started out, there existed what was called a tuition agreement. This meant that any students from Myrtle Point who attended Winter Lakes still counted as a student of the Myrtle Point School District. Because of this, Myrtle Point schools still received state funding for those children.
"Those students were educated by us, but we had worked out a financial deal where Myrtle Point still maintained any special education services or needs for them," Jones said.
However, that tuition agreement ended this year.
"It ended with the change of administration at Myrtle Point, so every student with us is on an inter-district transfer," Jones said. "This is the first year we've not had a tuition agreement. This means that Myrtle Point receives none of the state funding with the transfers."
When the agreement ended, Winter Lakes and Coquille schools weren't sure how it would impact their numbers. What they didn't expect was for those numbers to increase as a result.
Myrtle Point School Board Chairman Dave Robinson told The World that they only show 45 students on inter-district transfers, but also said that doesn't always stop parents from sending their kids to other schools.
"It's our goal to know when students transfer, but it seems they do it anyway and without permission or transfer agreements," he said. "Other districts seem happy to take them."
As for terminating the tuition agreement, Robinson couldn't say how much money the district is losing out on now but said it's "painful financially."
"Our first year as a cooperative meant we had students come to us from Myrtle Point, approximately a third of our population in the early years, so it's nothing new to have a good number of Myrtle Point students," Jones said. "But we have a higher percentage of Myrtle Point students now more than ever."
Jones believes one of the reasons so many Myrtle Point students are coming to Coquille is due to student frustration.
"Often times the students are just feeling frustration where they've had the same teachers and it hasn't been successful for them," Jones said. "They get 'so-and-so's' class again and need to get caught up on credits. We've also gotten younger students from Myrtle Point looking for educational options, much like students from everywhere."
As for the inter-district transfer agreements, Robinson didn't say much as to why his district is signing them and letting them go.
"I think superintendents, generally, get into a sense of equity where you sign a transfer for Student A and Student B has the same request, it's hard to deny Student B," Jones said. "Fair and equitable treatment is probably why Myrtle Point hasn't put the brakes on the transfers."
Though Myrtle Point seems to be bleeding students to the Coquille School District, only 39 of them are attending Winter Lakes this year. That is the same number of students from the Coos Bay School District.
"Something that's happened over the past three years is we've seen a tremendous amount of students from the Bay Area," Jones said. "North Bend and Coos Bay are major players now."
Coos Bay Schools Superintendent Bryan Trendell acknowledged that those students are often from families looking for alternative programs that don't require them to be in school every day.
"The one program we have that is an option for them is the Resource Link program," Trendell wrote to The World in an email. "They are currently full with a waiting list. Some of our students over the past years have chosen to transfer to Winter Lakes because their program offered them a way to catch up on credits in an efficient manner."
Trendell added that Coos Bay School District is in the process of restructuring its Destinations program to better meet the needs of these students. He hopes that by doing so there will be fewer students wanting to take advantage of Resource Link.
"I think it is important to note that we also get students from Coquille and other smaller districts in the area because our high school offers more college level courses, as well as our CTE programs," Trendell said. "I don't know that any one district has all the programs to meet the needs of all the students. I think it is great that we have the inter-district agreements between our districts to ensure all of our students in our area are getting access to the program that meets their needs."
Though Coquille Schools Superintendent Tim Sweeney doesn't see what's happening as an exodus per say, but admitted that overall the district and Winter Lakes is seeing quite the influx.
"We originally created Winter Lakes to serve about 50 kids and right now there are over 200," Sweeney said. "That's a big increase. With early learning, it's meeting the needs of the parents."
Freedom at Winter Lakes
When Jones said Winter Lakes is fulfilling its original name of a regional learning center, it's true. Right now, Winter Lakes has students attending from the Bay Area, Port Orford, Reedsport, and even as far as Ashland and Klamath Falls.
"We're all about choice," Jones said. "The people here are teachers and administrators and service case managers for students, so we give a lot of directions and possibilities on what kids can do. The combination is what make us attractive and makes us successful to get students to graduate. There is a small support group for each student."
During its second year of operation, Winter Lakes administration received a lot of questions from parents about an online curriculum. From those inquiries, the school morphed itself to develop a virtual academy in addition to the brick and mortar school. Both were run from the administration office.
"That first year we had 30 percent of our students opting for the virtual component and 70 percent for the brick and mortar," Jones said. "Our third year numbers showed that it balanced out but by our fourth year, it tipped the other way. We set up a situation where parents could choose what they want their children to do and have greater choice in how their education looked."
What the school currently does gives students and parents options for what attendance looks like, and can choose how much to work from home or at school.
"Parents can fluctuate too, so if they think they want students to work totally from home but it's not working out, we can make adjustments on the fly," Jones said. "Our goal is to help the students as best we can."
Though the school has an online curriculum, project-based learning is also a major component that gives kids an opportunity to do supplemental work.
"So there's three different modes of learning they can choose from," Jones said. "I tell people we function like a traditional charter, but we are a public school."
One major change Winter Lakes has seen in the past two years is a growing number of elementary students, just as other local districts have seen.
"It's not an extremely large number, but going back three years the numbers showed a dozen," Jones said. "Last year we had 50 and this year is the same."
However, another trend are that students are attending on a regular basis, which has changed the school's dynamic.
"In the last two years we've had to add two new classrooms designated for our younger students, hired a full time elementary teacher in the building to accommodate the elementary students, and then this year we opened a separate middle school classroom for the first time," Jones said.
"How big will Winter Lakes get?" is one of the most common questions Jones is asked.
"We have plans as a district to support expansion of Winter Lakes so long as students are there to support it," Jones said. "Each year we've drastically increased our numbers and now we expect to continue to increase. At some point we will hit our saturation, but not yet."