County agency hopes to spread education and support for new moms in the workplace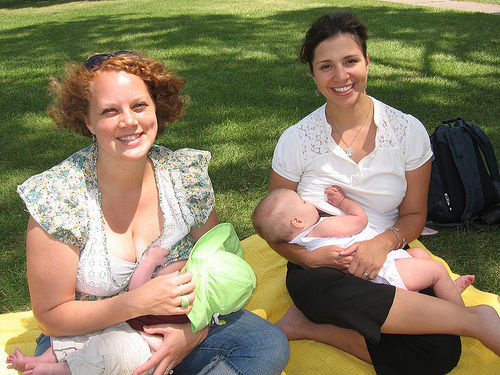 COOS COUNTY — Coos Health and Wellness encourages breastfeeding in the workplace.
The agency received a $13,000 grant from the Oregon Health Authority for maternal, child and infant health. Americore Vista employee Amber Madigan was hired by Coos Health and Wellness to work on the breastfeeding promotion in Coos County.
"The one focus area we picked for the grant was breastfeeding, specifically in the workplace when mothers return to work," Madigan said. "When you look at the initial breastfeeding rates, Coos County does very good with 91 percent but decreases after that."
Madigan pointed out that the World Health Organization's recommendation is for mothers to exclusively breastfeed during the first six months.
"Coos County's initial numbers are good, but after that it is a lot lower," Madigan said. "We want to tackle trying to make workplaces more breastfeeding friendly so moms feel like they can continue to breastfeed when they return to work. It's very important."
Benefits to breastfeeding can decrease ear infections, lower respiratory problems, decreases the chance for Sudden Infant Death Syndrome, as well as lowers the chances for obesity and Type 2 Diabetes. For breastfeeding moms, it has been proven to lower breast and ovarian cancer risks, heart disease and postpartum depression.
In fact, some Oregon officials believe it is so important they are "trying to push through lesgislation," said Florence Pourtal-Stevens, Coos Health and Wellness's Public Health Administrator. "Workplaces with over 50 employees must provide space and reasonable break times to their returning moms."
Madigan added that businesses with under 50 employees have to request exemption from the potential new law because they won't automatically be counted.
Pourtal-Stevens explained that since receiving the grant, Coos Health and Wellness put together a peer support group last year for breastfeeding families called the "Lactation Club."
"We ran the group once a month at the Coos Bay Library," she said. "We're suspending it now because we have a lot of transition in our staffing but hope to start it again or have a partner in the community pick it up. We realized there was a need for breastfeeding families to be supported in their journey."
Since starting the outreach program with the grant, Madigan has sent out a survey to local businesses as a way to know more about breastfeeding in the county.
"We will look at the surveys as a way to see what they need to know more about in order to become more breastfeeding friendly," Madigan said. "After collecting the results and analyzing them, we create a tool kit on how to establish more breaks in the right areas that follow the laws and give employees what they need to be supported in their breastfeeding."
The survey is running until the end of December.
The resulting tool kit is a booklet with information on how to write supporting policies and what conversations need to be had with employees returning to work in order to give them proper support.
Last year, Coos Health and Wellness conducted a survey in the community to see how supportive people were for breastfeeding.
"The community is extremely supportive," Pourtal-Stevens said. "We have over 90 percent of folks responding that they were supporting of breastfeeding moms and families."
If you own a business or are an employee who wishes to take the workplace survey, visit www.surveymonkey.com/r/6VZJ925.