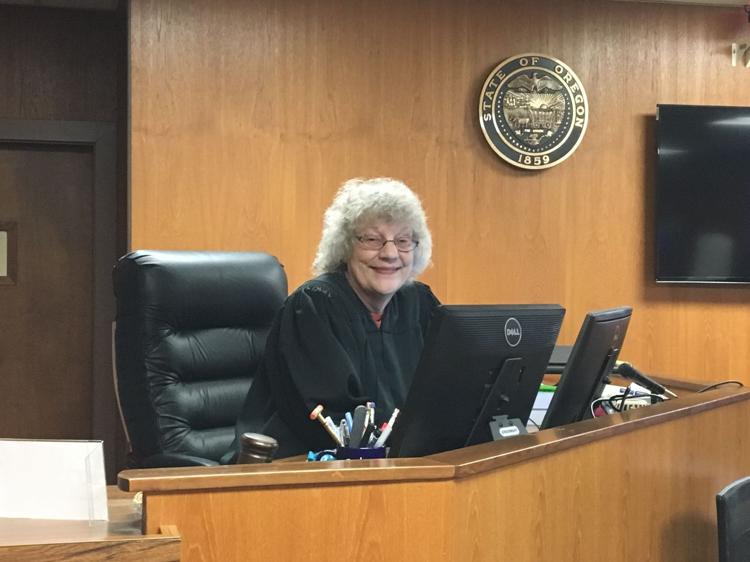 COQUILLE — Circuit Court Judge Paula M. Bechtold, Coos County's first female judge, will have her last day on the bench Nov. 30.
Bechtold has been serving the county as a judge since she was elected to the position in 1994, and after 23 years has decided to retire.
Before Bechtold got into law she worked as a high school teacher in Portland. Inspiring and helping young people proved to be much more of a challenge than she had anticipated, specifically because of what was happening at the time. She was teaching high school during the Vietnam War which caused widespread apathy among students.
"I thought I wanted to be a high school teacher and inspire kids to get involved, unfortunately they were not really interested. Part of the reason was the Vietnam War. I was teaching High School seniors, and a lot of the boys were saying that they were just going to get drafted and killed, so what's the point," Bechtold said.
A student in some legal trouble came to Bechtold with some questions about the law she was unable to answer. It was at this time Bechtold decided she wanted to go to law school.
"He needed some advice about how the legal system worked, and I didn't have a clue. At the same time I had started dating a guy who had just graduated law school, and was working as a clerk to one of the federal judges. It all just seemed to point me and I thought that maybe I should be a lawyer," Bechtold said.
Bechtold began attending law school at what used to be known as Northwestern University, but has since changed its name to Lewis and Clark University. For four years, she worked at the Portland public defender's office as an office manager during the day and attended school at night.
After graduating law school Bechtold had some trouble finding a job in Portland, primarily because she was a woman.
"Unfortunately I was a little ahead of my time, and after a while I found out that it was going to be virtually impossible for me to find a job as an attorney in Portland. The Law firms where not interested in having a woman lawyer,"
Bechtold found it shocking that law firms were rejecting her because she was a woman. According to her, one firm told her that they wouldn't have a problem with her, but their clients might not accept her and think she was a secretary.
"My favorite one was this really big law firm in Portland that told me in an interview, 'We already have one woman, I don't know what we'd do with another one.' Employers couldn't possibly say that today," Bechtold said.
She found her way to Coos County through friends from law school who told her and her husband that there was an old lawyer out in Coos Bay getting ready to retire and looking to sell his practice.
"We met with this lawyer who was trying to retire, he was out in Empire. We told him that we didn't have any money and he said 'Well, you can pay me over time. You don't have to give me anything down, and I'll even work with you a while just to teach you the ropes.' So, that's what happened. We ended up moving here in the summer of 1976, and we never left,"Bechtold said.
Bechtold spent the next 18 years as an attorney in the area. Eventually, she became the city attorney for Coos Bay.
As City Attorney Bechtold remembers, one of her favorite cases involved the railroad that runs along the Coos Bay Boardwalk.
"When I was city attorney was when they first started to talking about developing that area for pedestrians. Well, the railroad didn't want anyone crossing the railroad tracks. They insisted that the railroad tracks were private property and if any pedestrians tried to cross they would have them arrested. They were threatening to fence off the tracks so that you could only cross where a gate was. We took it to hearing and we won, and now people use the boardwalk every day," Bechtold said.
In 1994, the judge in North Bend decided to retire at the end of his term, so it wasn't a governor's appointment, it was an open seat for election.
"A lot of people had encouraged me to consider being a judge. I was still motivated to try and help people, so it sounded like good thing for me to do.
As a circuit court judge she has helped many people in the community. One of her big successes in the 23 years she's spent on the bench was helping created a mediation program known originally as Bay Area Mediation, but is currently called Common Ground, that allows members of the public to become trained mediators.
"The mediation program exists separate from the court. People can go to Common Ground and schedule a mediation with their next door neighbor, their co-worker, anyone who's willing to sit down and talk through their situation," Bechtold said.
Another project of Bechtold's that she's proud of is the Mental Health Court. Once a month people who have committed crimes, often as a result of mental illness, are helped by the court to organize their lives in a way that allows them to be productive and law abiding. Coos Health and Wellness does an evaluation of these people to see if they can be helped. If so they enter the 18-month program that, upon completion, the District Attorney will often drop their criminal charges.
She may be retiring, but Bechtold isn't going anywhere. After stepping down Bechtold will stay in the community that she's given 41 years of her life to.
"I've been involved in the community for a long time and I plan to continue to be involved. Maybe I'll be able to volunteer at some of my favorite place like the history museum, the art museum, or the Marine Life Center out in Charleston. Maybe I'll even make popcorn at the Egyptian,"