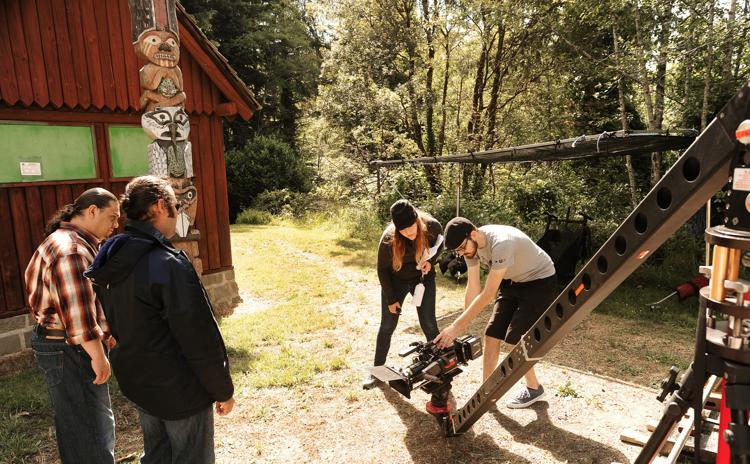 COOS BAY — After years of work, Barri Chase's The Watchman's Canoe is available to the public.
The movie, which was filmed throughout Coos County, has made the circuit through movie festivals and recently won an award for sound from Seattle's Composer's Alliance.
"We are excited to finally get this movie out for anyone to watch at home," Chase told The World.
It can be purchased or rented on Amazon Video or iTunes.
However, The Watchman's Canoe is just the beginning for the projects Chase has planned with actors Adam Beach, Roger Willie and the Southern Oregon Coast.
"Everything I do is based on identity and how we handle or not handle it," she said in a previous interview about her upcoming movie, "Coyote Howls." "This new film is loosely based on true life stories, about a man who has run from his past ever since he left the reservation."
As a Native American herself, the majority of her projects have centered around issues she or others have encountered often told within the Native American culture. Coyote Howls follows a professor who spent the majority of his life telling everyone he knew that he was Latino, but is now forced to face the truth about who he is and where he comes from.
"The idea came to me when I was visiting with a friend," Chase said. "We went out with the cast and crew, and as we were walking across the street something strange happened to him."
Chase believes she saw, in the reflection of a nearby window, her friend be lifted and thrown down the street. For Native Americans and other first nation cultures, there is an explanation.
"My friend told me, finally after all these years, that he was Native American, not Latino," she said. "I was shocked because he had never told me or anybody. I spoke with different tribes about what I thought I saw and I got so many stories from people about why something like this may have happened."
Of course, Chase is waiting to explain it in the new movie, which she described as a mystery thriller.
"It's an intense journey about how to face who you are and to accept it," she said.
Now that The Watchman's Canoe is finally complete, she is focused on her new project and looking for equity share investors.
As she coordinates with new contributors, she is also going to begin filming a series called Marshfield this summer.
"It is about a town that is sinking and the supernatural events that occur because of the sinking," she said.
This film will feature mostly local actors and be similar to the German series "Dark" as well as Netflix's popular "Stranger Things."
"We're pulling out urban legends from the local area and follow a group of teens who are in a girl band and their friends as they start to witness the paranormal activity and try to solve it," Chase said.
She hopes to start filming in June. Though she hasn't coordinated with the Coos Bay School District to seek permission to film on the Marshfield High School campus, she plans on doing so soon.
Chase also hopes to contact, and be contacted by, local businesses or homeowners willing to let her film on location.
"We are interested in product placement, putting their business name in the show," she said. "It's a great way to highlight our area and have a fun, solid story to tell."
To become a contributor for Coyote Howls or to talk with Chase about film locations for Marshfield, email her at barrichase@gmail.com.