The three pictures that I am sharing this week all come from the same area, and basically show the same building. In 1956, Kenner Giles managed the Albers Feed Store, next to the cheese factory on the west side of Ferry Creek at Grand Avenue. It fronted on the highway, about where Face Rock Creamery is now.
But because the cheese factory needed to expand, it was decided to move the feed store building across Grand Avenue, but to get there, it had to cross Ferry Creek. Unfortunately as they were moving it, the stringers broke, and one side of the building went down into the creek. After much work, they were able to lift it and get it across Grand, where it sits today and is known as the 101 Marketplace.
You can see it in its present location, on the east side of Grand, in 1962 when the state highway department was reinforcing the banks of Ferry Creek, on the north side of the highway, in front of property that my family owned for many years.
The third picture, taken in April of 1978, pictures another collapse. This occurred when Jim Franks attempted to drive his garbage truck across the wood platform leading to my house, and the next door cottage. Officer Marc Johnson, who was off-duty at the time, is pictured behind the truck, as they try to figure out how to lift it up. Across the highway you can see the same building, which by that time had become a "flea market," and had undergone some design changes. The bridge leading from the highway to the properties I previously owned (which are now for sale by the new owners) is now concrete.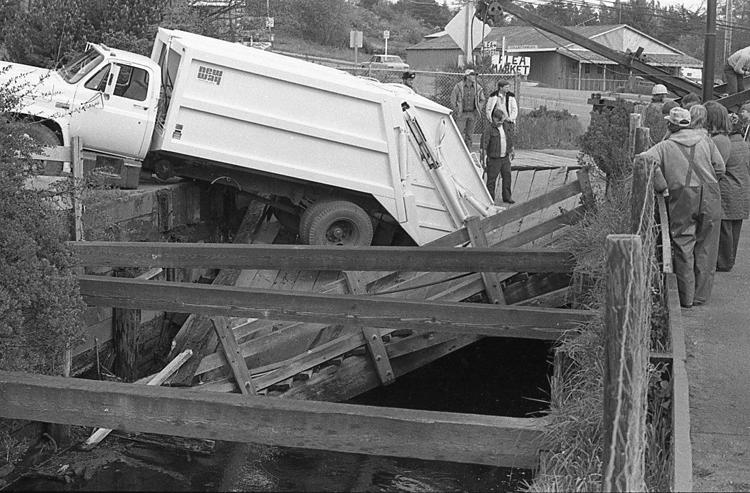 I was sad to hear that long-time Bandon resident (and probably a native) Hugh G. McNeil died this week at the age of 96. Hugh had been living in the Myrtle Point Care Center for several years.
Among his survivors are his daughter, Sheila of Eugene, three sons, Bill, Rich and Steve, and his 93-year-old sister, Mary McNeil Wilson. His wife, Betty, died in November of last year.
Hugh, who operated the butcher shop in the back of M&L Grocery for many years, was also a commercial fisherman, and served many years on the Bandon Port Commission.
A service will be held for Hugh at 1 p.m. on Friday, Nov. 11 (Veterans Day), at Holy Trinity Catholic Church in Bandon.
He was a popular guy and will be missed ...
I saw a post on the Internet from The Financial Word, with information about the 10 most expensive states in which to retire. Unfortunately, Oregon was No. 4. The states were New York, Washington, D.C., California, Oregon, Hawaii, New Jersey, Minnesota, North Carolina and Illinois.
Here is what the article had to say about Oregon: "If you're the type who enjoys going to the beach, going for a hike, or a delicious mug of craft beer to cap the day off, then the Beaver State is where you should be settling in.
"Nevertheless, there are two downsides to retiring in Oregon - the high cost of living and high tax rate.
"For retirees who would be living on fixed income, starting a life in Oregon may be difficult. For one thing, the Council for Community and Economic Research's 2014 report indicated that Portland apartments are charging more than double the national average rental fee at $2,196 per month. Moreover, gasoline is 11.7% more than the national average. Even the consultation fee for doctors is 27.7% higher than average.
"In addition, while Oregon doesn't impose sales taxes, residents who earn more than $125,000 annually ($250,000 for married couples who file jointly) as well as retirement income, are burdened with 9.9% income tax."
Here lies just one reason that I voted no on Ballot Measure 97.
I have a new meaning for the licorice candy "Good & Plenty." They are my favorite candy, and I always keep a box in a special "catch all" drawer in the kitchen.
So you can imagine my surprise when I opened the drawer last night to find that I wasn't the only one who loved Good & Plenty.
The Plenty would refer to the hundreds of tiny black sugar ants that had invaded the drawer and were feasting on my candy. Fortunately one of the three boxes had not yet been opened, so it did not have to be thrown out.
What started out as simply opening the drawer to steal another sweet, ended up being a several-hour job of cleaning each item out of the drawer, killing the ants, cleaning the drawer, and putting in borax to discourage them from coming back.
Instead, they are now on the wall near the drawer, but there are far fewer of them and they are easier to get rid of.
My sister gave me some borax earlier this summer when I had another ant problem, but by the time I remembered to bait them, they were gone. And I mean completely gone. I did not see a single ant, or even so much as a fruit fly or a regular fly for months.
Now they are back ... all of them.
I hate flies, and anytime I see one, I immediately get rid of it. But in the last few days, I have killed 12 and I know there is still another one in here someplace. I am thinking that they are hatching as I am extremely careful when I open the door.
Maybe it's the time of the year ... or maybe it's because I am stressed out over the election and little things upset me more. Not sure ... but I do know that I got rid of some pretty happy sugar ants.
A recent article in the Register-Guard recounts how a Deschutes County Sheriff's deputy was recovering after being attacked by five dogs -- all pit bulls -- in LaPine. The female deputy was responding to a call about the dogs when they charged at her. She says she didn't shoot the pit bulls because there were children in the area.
Although she was hospitalized, her boots and vest kept her from suffering worse injuries. Thank God it wasn't a defenseless senior citizen or a young child they decided to attack.
The dogs were taken to the Humane Society of Central Oregon.
Congratulations go to the Bandon boys cross-country team, which won its first state title Saturday at Lane Community College. Josh Snyder placed fourth, Hunter Hutton was fifth and Zane Olive finished ninth. Also running for Bandon were Isaac Cutler, Skyler Hammons and Aero Franklin. Bandon finished 25 points ahead of East Linn Christian to win the state honor.
Bandon's Sailor Hutton (Hunter's twin) was runner up for the second straight year in the Class 3A-2A-1A girls race. The race was won by Oregon Episcopal's Stephanie Finley with a time of 18 minutes and 30 seconds ... six seconds ahead of Sailor.
The Sprague Theater is going to be a busy place in the new two weeks, with at least three programs scheduled.
Friday night, Nov. 11, Bandon Playhouse will present "One Night On Broadway -- A Musical Sing-along." People are invited to dress up as their favorite Broadway star and spend the evening signing the songs of Broadway with the audience. Playhouse members will provide engaging "masters of ceremonies" while leading the audience in a night filled with some of the musical theaters most memorable tunes from "Fiddler on the Roof," "The Sound of Music," "Wicked," "Phantom of the Opera," "Beauty and the Beast," "Frozen" and many more.
The show will be dedicated to the men and women of the Armed Services, and admission for veterans will be $5, while other adults will pay $10 and children (12 and under) will be charged $8. Tickets are available at Bandon Mercantile and the Cobblers Bench.
The Bandon High School Speech Team, under the direction of long-time mentor Ellen Howard, will perform in "Sweet Speeches" Tuesday night, Nov. 15, beginning at 7. Seniors on the team are Katy Taylor, Dustin Wilson, David Vincent, Andy Yu, Jack Turner, Donnegal Gordon and Josiah Hay.
I just happened to be looking over the brochure for the Bandon Showcase 2016-17 season of performances, and noticed that the next program is set for Thursday night, Nov. 17.
It features William Florian, former lead singer of the famous New Christy Minstrels, with "an upbeat, musical journey of America's greatest songs of the '60s."
The publicity adds: "Florian presents uplifting original music while adding amusing stories in an intimate show. Retirees love the show. Those were the days!"
I will definitely see that show.
All seats are reserved, and although there are many season ticket holders, people can still buy single-show tickets at Bandon Mercantile for $25.
I hope people realize how lucky we are to have a theater like the Sprague, to complement our wonderful library and community center, along with our new playground equipment ... all in City Park.